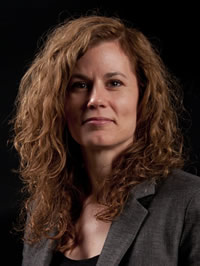 Title
Associate Professor
Department
Office Phone
(765) 496-9387
Email
Education
BS, Computer Science, 2000
University of Massachusetts Amherst

MS, Computer Science, 2004
University of Massachusetts Amherst

PhD, Computer Science, 2006
University of Massachusetts Amherst
Research Areas
Professor Neville's research focuses on data mining and machine learning techniques for relational data. In relational domains such as bioinformatics, citation analysis, epidemiology, fraud detection, and web analytics, there is often limited information about any one entity in isolation, instead it is the connections among entities that are of crucial importance to pattern discovery. Relational data mining techniques move beyond the conventional analysis of entities in isolation to analyze networks of interconnected entities, exploiting the connections among entities to improve both descriptive and predictive models. Professor Neville's research interests lie in the development and analysis of relational learning algorithms and the application of those algorithms to real-world tasks.
Publications
Neville, J. and D. Jensen, "Relational Dependency Networks", Journal of Machine Learning
Research, to appear 2006.

Neville, J. and D. Jensen, "Leveraging Relational Autocorrelation with Latent Group Models",
Proceedings of the Fifth IEEE International Conference on Data Mining (2005), pp 322-329.

Neville, J., O. Simsek, D. Jensen, J. Komoroske, K. Palmer and H. Goldberg, "Using Relational
Knowledge Discovery to Prevent Securities Fraud", Proceedings of the 11th ACM SIGKDD
International Conference on Knowledge Discovery and Data Mining (2005), pp 449-458.