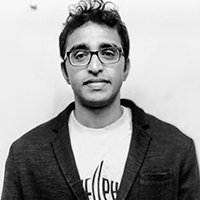 Title
Assistant Professor
Department
Email
Education
Ph.D in Computer Science, University of California, Santa Barbara, CA, USA, 2014 - 2020
MS in Information Security, Georgia Institute of Technology, Atlanta, GA, USA, 2013
BE in Computer Science, R.V College of Engineering, Bengaluru, KA, India
Prior Appointments
Fall 2020: Postdoctoral Researcher
University of Pennsylvania.
Summer 2019: Visiting Researcher
University of Maryland, College Park.
Summer 2018: Research Intern
Symantec Research Labs (SRL), Culver City.
Jun 2013 - Sep 2014: Software Security Engineer
Qualcomm R&D, San Diego.
Research Areas
Software Security. Binary Analysis. Machine Learning for Security. Firmware Rehosting. Trusted Execution Environments.
Notable Awards
Amazon ResearchAward for Securing Workflows 2023

Distinguished Paper Award for 3c 2022

CS Outstanding Dissertation Award UCSB 2020

CSAW Applied Research Finalist for DIFUZE CSAW 2017

Internet Defense Prize Runner up for DR.CHECKER USENIX Security 2017

Distinguished Paper Award for Ramblr NDSS 2017

Best Paper Award Award for CLAPP Grad Workshop 2016

Distinguished Artifact Award for Dynodroid FSE 2013

College of Computing MS Research award 2013
Biography
I am an Assistant Professor and a founding member of Purdue Systems and Software Security (PurS3) Lab at Purdue University in the Electrical and Computer Engineering Department.

I am interested in all aspects of System security and Program analysis. In particular, I work on applying static/dynamic program analysis and fuzzing to solve various system security problems. I am also interested in Binary analysis and exploring Machine Learning techniques to solve various problems with binary analysis.

My research resulted in various Open-source security tools and several Common Vulnerability Exposures (CVEs) in critical system software such as kernel drivers and bootloaders.

When time permits, I enjoy participating in Computer Security Capture the Flag (CTF) competitions with Shellphish, and I won third place with the Shellphish CGC team in the autonomous DARPA Cyber Grand Challenge.