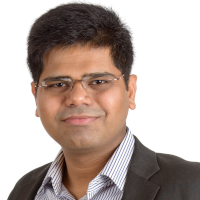 Title
Associate Professor
Department
Email
Education
Ph.D. in Computer Science at University of Waterloo, Canada, 2010.
M.Tech. in Computer Science and Engineering at Indian Institute of Technology (IIT) - Bombay, India, 2006.
B.E. in Information Technology Mumbai University, India, 2003.
Prior Appointments
A Research Group Leader (junior faculty member) at the Excellence Cluster, Saarland University, Germany 2012-15.
Post-doctoral Fellow at at Max Planck Institute for Software Systems (MPI-SWS), Germany, 2010-12.
Research Areas
Privacy enhancing technologies, Anonymity, Accountability, Applied cryptography, Payment networks and cryptocurrencies, Trusted computing, Distributed trust, Multi-party computation, Post-quantum cryptography
Key Areas
Next-generation payment networks, Emerging anonymity technologies and their analysis, Practical multi-party computation, Transparency enhancing technologies, Post-quantum forward-secure cryptography
Notable Awards
Purdue Seed for Success award, 2019.

College of Science Faculty Team Award, February 2016.

National Science Foundation (NSF) CAREER Award, February 2019.

Cyber Security Awareness Week (CSAW) Applied Research Award (Top-10) Finalist, November 2017.

Best paper award at ACM Conference on Online Social Networks (COSN), November 2015.

David R. Cheriton Graduate Scholarship, University of Waterloo, 2007–2010.
Publications
https://scholar.google.com/citations?user=dmhWxJgAAAAJ
Biography
Prof. Aniket Kate is an applied cryptographer and a privacy researcher. His research projects aim at bridging the large gap between cryptographic research, and systems security and privacy research. Along with producing theoretically elegant cryptographic results, his team endeavors to make them useful in real-world scenarios. In the long run, he wishes to resolve real-world robustness and privacy issues with ever-growing Internet-based systems by developing advanced-yet-practical cryptographic tools.
Before joining Purdue in 2015, Prof. Kate was a junior faculty member and an independent research group leader at Saarland University in Germany, where he was heading the Cryptographic Systems Research Group. He was a postdoctoral researcher at Max Planck Institute for Software Systems (MPI-SWS), Germany for 2010 until 2012, and he received his PhD from the University of Waterloo, Canada in 2010.