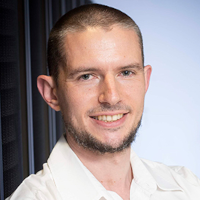 Title
Kevin C. and Susanne L. Kahn New Frontiers Associate Professor
Department
Office Phone
765-449-69432
Email
Education
PhD, École Polytechnique Fédérale de Lausanne (EPFL), Switzerland, Computer Science (2012)
MS, Universität zu Lübeck, Germany, Computer Science and Medical Informatics (2008)
BS, Universität Bremen, Germany, Computer Science (2003)
Research Areas
Applied and fundamental aspects of programming languages and compilers: language design, program analysis, program transformation, program generation and synthesis, type systems, semantics. PL technology in data management, machine learning, and AI.
Notable Awards
ACM SIGPLAN Programming Languages Software Award (Scala team) 2019

Facebook Probability and Programming Research Award 2019

Purdue Seed for Success Award 2019

Purdue College of Science Team Award 2019, 2020

VMware Systems Research Award 2018

Purdue College of Science Professional Achievement Award 2017

DOE Early Career Award 2017

Google Faculty Research Award 2017, 2018

NSF CAREER Award 2016

OOPSLA Distinguished Artifact Award 2016

GPCE Invited Keynote Speaker 2016

Member of IFIP Working Group 2.11: Program Generation 2015

VLDB Best Paper Award 2014

Nominated for EPFL and SIGPLAN dissertation awards 2012

CACM research highlight 2011

EPFL PhD fellowship 2008
Publications
Tiark Rompf, Martin Odersky, "Lightweight Modular Staging: A Pragmatic Approach to Runtime Code Generation and Compiled DSLs", Commun. ACM 55(6): 121-130 (2012), CACM Research Highlight
Tiark Rompf, Arvind K. Sujeeth, Nada Amin, Kevin J. Brown, Vojin Jovanovic, HyoukJoong Lee, Martin Odersky, Kunle Olukotun, "Optimizing Data Structures in High-Level Programs: New Directions for Extensible Compilers based on Staging", POPL 2013
Yannis Klonatos, Christoph Koch, Tiark Rompf, Hassan Chafi, "Building Efficient Query Engines in a High-Level Language", VLDB 2014, Best Paper Award
Biography
PhD, École Polytechnique Fédérale de Lausanne (EPFL), Switzerland, Computer Science (2012)
MS, Universität zu Lübeck, Germany, Computer Science and Medical Informatics (2008)
BS, Universität Bremen, Germany, Computer Science (2003)

My scientific home is in programming languages and compilers, but my research spans systems, architecture, databases, machine learning, and AI. I am a founder and director of the Purdue Center for Programming Principles and Software Systems (PurPL), where we tackle the emerging challenges of "Software 2.0", i.e. software systems that operate on a global scale and include algorithms learned from data. Please see my web page for more information about my group and my research.