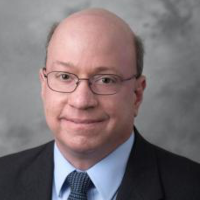 Title
Associate Professor & Head of the School of Aviation and Transportation Technology
Department
Office Phone
765-494-2686
Email
Education
Doctor of Philosophy, Civil Engineering, Purdue University, 2017
Master of Science, Electrical Engineering, University of Alabama, 1988
Bachelor of Science, Electrical Engineering, University of Alabama, 1986
Research Areas
Statistical process modeling and simulation, Aviation applications of Bayesian inference, Acquisition and analysis of distributed transportation data
Notable Awards
2023 AIAA Air Transportation Systems Best Student Paper Award (co-authored with Q. Zhang), Runner Up.

V. L. Laursen Award for the Achievement of Teaching Excellence in Collegiate Aviation Education, University Aviation Association, 2022.

Advisor to First Place Team, 2022 Airport Cooperative Research Program University Design Competition, Transportation Research Board, National Academies of Sciences, Engineering, and Medicine

Nominee, Outstanding Faculty in Discovery, Purdue Polytechnic Institute, 2020 - 2021

Advisor to Winner, 2020-2021 Graduate Student Research Award, Airport Cooperative Research Program, Transportation Research Board, National Academies of Sciences, Engineering, and Medicine

Advisor to First Place Team, 2020 Airport Cooperative Research Program University Design Competition, Transportation Research Board, National Academies of Sciences, Engineering, and Medicine

FLAIR Faculty Fellow, Purdue University, 2020

Purdue Polytechnic Institute Outstanding Graduate Student Mentor Award, 2019 - 2020

Nominee, Outstanding Faculty in Discovery, Purdue Polytechnic Institute, 2019 - 2020

Visiting Fellow, Cranfield University, 2020 - 2022

Advisor to Third Place Team, 2019 International Aircraft Localization Competition, Montreal, Canada

Advisor to Second Place Team, 2019 Airport Cooperative Research Program University Design Competition, Transportation Research Board, National Academies of Sciences, Engineering, and Medicine

President's Award for Excellence, University Aviation Association, 2019

2017 Best Dissertation Award, Lyles School of Civil Engineering, Purdue University

2016 Workforce Development Award, Greater Lafayette Chamber of Commerce

Frank E. Sorenson Award for Excellence in Aviation Research and Scholarship, University Aviation Association, 2016

Exceptional Early Career Award for Outstanding Undergraduate Teaching, Department of Aviation Technology, 2015

John P. Lisack Early Career Engagement Award, Purdue College of Technology, 2014

Teaching for Tomorrow Award, Purdue University, 2011
Biography
Dr. John H. Mott is an Associate Professor in the School of Aviation and Transportation Technology at Purdue University. A summa cum laude graduate of the University of Alabama with Bachelor's and Master's Degrees in Electrical Engineering, and of Purdue University with a Ph.D. in Civil Engineering, he also possesses an FAA Commercial Pilot Certificate with Instrument and Multiengine ratings, an FAA Flight Instructor Certificate with Airplane Single-and Multiengine and Instrument ratings, and an FAA Ground Instructor Certificate with Advanced and Instrument ratings. He holds type ratings in the Beech King Air 300, Hawker HS-125, and Canadair Challenger 600. He has worked as a flight instructor, a charter pilot, chief pilot, and director of training for a FAR 135 operator, an airline pilot flying the SA-226TC Metroliner, and a corporate pilot in many different models of aircraft.

Dr. Mott serves as the Director of the Advanced Aviation Analytics Center of Research Excellence (A3IR-CORE), and was the founding editor of the Journal of Aviation Technology & Engineering, where he served as executive editor through 2018. Dr. Mott's research is focused primarily on the aggregation of distributed data related to various operational aspects of transportation systems, the analysis of that data using deterministic and stochastic mathematical modeling, and the development of related tools to facilitate improvements to the safety and efficiency of those systems. While this research is inherently interdisciplinary and crosses boundaries between the school's focus areas of safety, quality, and sustainability, Dr. Mott's principal focal areas are those of quality and safety. The related challenge is the issue of employing data and decision science to improve the quality and safety of the services provided within the transportation industry, which aligns with the restoration and improvement of urban infrastructure, one of the National Academy of Engineering's 14 Grand Challenges. These focal areas are related to the college-level impact areas of Healthy and Sustainable Communities and Realizing the Digital Enterprise, as the collection and analysis of data from transportation systems facilitates improved management decisions regarding those systems and ultimately improves the quality of life of those who utilize transportation services.

Prior to joining Purdue, Dr. Mott was Engineering Manager for a firm in Birmingham, Alabama, and also operated an electronics design and manufacturing business for many years. He is a Senior Member of the Institute of Electrical and Electronics Engineers (IEEE) and the Chair of the Signal Processing and Communications Society Chapters of the Central Indiana Section, a member of the Board of Trustees of the University Aviation Association (UAA), and a member of the Standing Committee on Airfield Capacity and Delay of the Transportation Research Board of the National Academies of Science, Engineering, and Medicine. He is also a member of the Institute of Transportation Engineers (ITE).