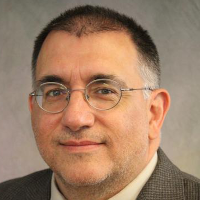 Title
Associate Dean of Facilities and Operations; Professor of Electrical and Computer Engineering; Professor of Civil Engineering (courtesy)
Department
Office Phone
765-494-3530
Email
Education
BSEE, University of Colorado, Boulder, 1981
MSEE, University of Illinois, 1983
PhD, University of Illinois, 1989

Research Areas
Signal processing for wireless communications, adaptive filtering and equalization, synchronization, modulation and coding for nonlinear channels, intelligent transportation systems
Biography
James V. Krogmeier received the BSEE degree from the University of Colorado at Boulder and the MS and Ph.D. degrees from the University of Illinois at Urbana-Champaign. He has industry experience in telecommunications, is a founding member of two software startup companies, and is the owner-operator of a Colorado wheat and corn farm. He is currently Professor and Associate Head of Electrical and Computer Engineering at Purdue University in West Lafayette, Indiana.

Professor Krogmeier's research interests include the applications of statistical signal and image processing in agriculture, intelligent transportation systems, sensor networking, and wireless communications. He has published many technical papers in refereed journals and conference proceedings of the IEEE, the ASABE, and the Transportation Research Board and is a co-inventor on five awarded U.S. patents. Professor Krogmeier's research has been funded by the USDA-NIFA, NSF, DARPA, the Indiana Department of Transportation, the Federal Highway Administration, and industry.

Professor Krogmeier has served on a number of IEEE technical program committees and as an Associate Editor for several IEEE journals.