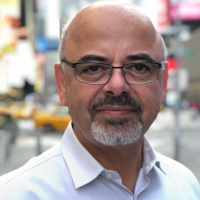 Department
Office Phone
(765) 494-5742
Email
Research Areas
intelligent systems and control methodologies
Notable Awards
Distinguished Speaker, University of Illinois Friday Forum Lecture Series in 1999.

Undergraduate Teaching Award, Purdue University in 1998.

Keynote Speaker, IEEE International Conference on Intelligent Systems Applications to Power, ISAP*97, Seoul, Korea in 1997.

International Who is Who in Information Technology in 1996.

Purdue's Nominee for the David & Lucille Packard Fellowship in 1996.

General Electric Teaching Award, $5,000.

Magnetic Fusion Energy Fellowship, Research fellowship spent at the Laboratories of Westinghouse Electric Co. in Pittsburgh, Pennsylvania in 1982.

E. J. James Scholar, University of Illinois in 1978.

N. Stoyanoff Award in Engineering, University of Illinois in 1977.
Notable Affiliations
American Nuclear Society (ANS); Association for Computing Machinery (ACM); Institute of Electrical and Electronic Engineers (IEEE); International Fuzzy Systems Association (IFSA); International Neural Network Society (INNS); Operations Research Society of America (ORSA); Atomic Energy Society of Japan (AESJ).
Publications
Tsoukalas, L.H., Uhrig, R.E., Fuzzy and Neural Approaches in Engineering, John Wiley & Sons, New York, NY, 1997; Uluyol, O.,Tsoukalas, L.H., Ragheb, Neural Network with Local Memory for Nuclear Reactor Power Level Control, Nuclear Technology,Vol. 133, pp 213-228, Feb. 2001;Wang X., Tsoukalas, L.H.,Wei,T.Y-C., Reifman, J., An Innovative Fuzzy-Logic-Based Methodology for Trend Identification, Nuclear Technology,Vol. 135, pp. 1-18, July 2001; Schooley, D. C. and Tsoukalas, L.H., "CIMEG Proposes a Thinking Grid for Reliability," Electric Light & Power,Vol. 77, No. 3, 1999.
Biography
Lefteri H. Tsoukalas is a professor of engineering and founding director of the AI Systems Lab (AISL) at Purdue University. He has served as head of the School of Nuclear Engineering of Purdue University and as Chairman of the United States Nuclear Engineering Department Heads Organization.

Tsoukalas holds a PhD from the University of Illinois at Urbana–Champaign (1989). He has over 250 research publications on intelligent systems and control methodologies, more than three decades of experience in these fields, and is the principal author of the book Fuzzy and Neural Approaches in Engineering (John Wiley & Sons, New York, 1997).

Dr. Tsoukalas has served in advisory and consulting positions for the International Atomic Energy Agency (IAEA); the Agency for Science, Technology and Research (ASTAR) of the Government of Singapore; and the United States Department of Energy. He has been recognized by being inducted to the status of Fellow of the American Nuclear Society and awarded with the Humboldt Prize, Germany's highest honor for international scientists.