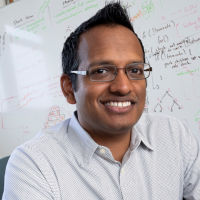 Department
Office Phone
765.494.1742
Email
Education
North Carolina State University Raleigh, NC — B.S. in Computer Science (Summa Cum Laude & with Honors), 2002
North Carolina State University Raleigh, NC — B.S. in Computer Engineering (Summa Cum Laude), 2002
Cornell University Ithaca, NY — M.S. in Computer Science, 2005
Cornell UniversityIthaca, NY — Ph.D. in Computer Science, 2008
Research Areas
My research interests lie in the areas of programming languages, compilers and systems. Specifically, I am interested in various language features, compiler techniques and run-time system support that will be necessary to unlock the potential of emerging, complex computation platforms such as multicore processors, heterogeneous architectures, sensor networks and distributed systems.
Notable Awards
NSF CAREER award, 2012.

Wilfred "Duke" Hesselberth Award for Teaching Excellence, 2012.

DOE Early Career Research Program award, 2013.

Purdue Seed for Success award, 2013.

Teaching for Tomorrow Fellow, 2014–2015.

Ruth and Joel Spira Outstanding Teaching Award, 2014.

Purdue College of Engineering Exceptional Early Career Teaching Award, 2015.

Presidential Early Career Award for Scientists and Engineers, 2016.

Purdue Seed for Success award, 2016.

Eta Kappa Nu Outstanding Teacher Award, 2018.

Wilfred "Duke" Hesselberth Award for Teaching Excellence, 2018.

University Faculty Scholar, 2018.
Biography
I graduated in 2002 with a B.S. in both Computer Science and Computer Engineering from North Carolina State University. I received my Ph.D. in Computer Science from Cornell University. My advisor was Keshav Pingali. While pursuing my Ph.D., I was supported by a Department of Energy High Performance Computer Science (HPCS) Fellowship. After receiving my Ph.D., I joined the Institute for Computational Sciences and Engineering at the University of Texas at Austin as a postdoc, where I worked with the Intelligent Software Systems (ISS) group. Since the fall of 2009, I have been in the School of Electrical and Computer Engineering at Purdue University.