Donors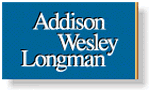 Part of the London based Pearson Group, Addison Wesley Longman is a publisher of programs and materials for both students and teachers. Their product line includes higher education textbooks and multimedia courses in every major academic subject. In addition, materials for business professionals, practicing engineers, programmers and software developers are also available.

Authenex has developed an affordable, secure and easy-to-use platform for strong two-factor authenticated e-security applications, making it possible for enterprises and PC-users to afford and deploy the highest standards in network security. The Authenex suite of applications includes Strong Authentication for VPN, LAN and Web, Strong (Web) Access Control, End Point (File and Hard-Drive) Encryption, Secure File Exchange, and an All-in-One Security Suite, as well as Certificate Storage. Each leverages the chip-based Authenex A-Key token, providing simplified management and use.

Coverity is a privately held company headquartered in San Francisco. Their groundbreaking technology removes the barriers to writing and delivering complex software by automatically finding and helping to fix critical software defects and security vulnerabilities as the software is written. More than 200 leading companies choose Coverity because it scales to tens of millions of lines of code, has the lowest false positive rate and provides 100 percent path coverage.

Elemental is an award-winning pioneer in the Security Compliance Management market. Elemental was named Most Innovative company at the 2006 RSA Conference, and Elemental Compliance System (ECS) received the 2006 gold medal in emerging technologies from Information Security and SearchSecurity.com editors. Elementals products address enterprises' need to centrally manage the security compliance of all computers in their environments. Elemental provides unified visibility and control to manage dynamic computing environments, enabling enterprises to satisfy compliance requirements and measurably improve their security. Founded in December 2002, Elemental is a privately held company backed by Bessemer Venture Partners, Mayfield, Sequoia Capital and Lehman Brothers Venture Partners. Red Herring and AlwaysOn awarded the company their Red Herring 100 and AlwaysOn 100 awards, respectively, which honor the top private companies of 2005. The company is headquartered in San Mateo, Calif., and has offices throughout the U.S. Visit the Elemental Security web site for more information.

EllisLabs is a fast growing technology company that develops internet-enabling software and services used by hundreds of thousands of people around the world.

The need for precise time and frequency has touched almost every aspect of life in the modern world. It is at the heart of our high-tech society - enabling wireline & wireless communications and interconnectivity. EndRun Technologies is a privately held time & frequency company founded in 1998. They design, manufacture and market equipment used in IT networks, military communications, aerospace, broadcast applications, engineering & calibration laboratories, and more.

For decades, Intel Corporation has developed technology enabling the computer and Internet revolution that has changed the world. Founded in 1968 to build semiconductor memory products, Intel introduced the world's first microprocessor in 1971. Today, Intel the world's largest chip maker is also a leading manufacturer of computer, networking, and communications products.
Intel, the world leader in silicon innovation, develops technologies, products and initiatives to continually advance how people work and live.

NeuralIQ was founded in 2004 and is headquartered in Santa Monica, California. We believe that information security is an unconventional war and that the key to victory is superior intelligence. Marked by a passion for meeting these unconventional threats with unconventional technology, our growing team of researchers is dedicated to providing customers superior intrusion intelligence through stealth, surveillance, and real-time analysis.

O'Reilly & Associates is the leading publisher of books for UNIX, X, the Internet, and other open systems, as well as a pioneer in online publishing. They also publish the leading web server for Windows NT and Windows 95. O'Reilly has donated many of their technical reference manuals and In A Nutshell books to the CERIAS library.

Riskwatch provides quantitative Risk Analysis software that produces accurate results for better decision-making on security measures. RiskWatch is dedicated to developing highly efficient, easy to use, affordable software for both information and physical security, combining state-of-the-art technology with great customer service. RiskWatch is committed to being the world leader in risk assessment software by providing government and industry specific versions with an up-to-date comprehensive Asset, Threat and Safeguard database.

Originally founded as the Indiana Software Association in 1991, the organization was a trade association representing the interests of the software community. With over 400 Indiana based companies, the sponsored programs and events receive an outstanding response, continuing to draw business leaders.
TechPoint's purpose is to:
Actively promote growth and serve as a voice for the industry
Provide a forum for the sharing of business and technical experience among industry professionals
Promote the desirability of Indiana as a place for IT industry and infrastructure enterprises to start, locate, and operate
Support members in marketing their products and services worldwide
Provide and refer products and services that enhance the competitiveness of association members
Advocate research, development, and education in the field of information security

Zend, the PHP Company, is the leading provider of products and services for developing, deploying and managing business-critical PHP applications. PHP is used by more than twenty million Web sites and has quickly become the most popular language for building dynamic web applications. Deployed at more than 15,000 companies worldwide, the Zend family of products is a comprehensive platform for supporting the entire lifecycle of PHP applications. Zend is headquartered in Cupertino, California.