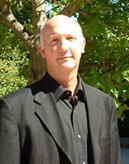 Title
Professor and Department Head
Department
Office Phone
(765) 494-8603
Email
Education
B.A. from the University of South Florida, M.A. from Western Kentucky University, Ph.D. from the University of Michigan
Research Areas
Software Diffusion, Communication, Time and Technology, E-Health Web Site Usability, Digital Identity
Key Areas
Trusted Social and Human Interaction Incident Detection, Response, Investigation
Notable Experience
Keynote address (Communication,Technology and Change) at the Finland Virtual University Seminar at the University of Jyväskylä in Jyväskylä, Finland (2001). Taught a class on Communication and Change: International Perspectives in Italy (Spring 2001).
Notable Awards
National Communication Association's Golden Anniversary Award for Excellence in Teaching.
Notable Affiliations
Active supporter of the CIMBA program in Northern Italy.
Publications
Research has appeared in Communication Monographs, Human Communication Research, Personality and Social Psychology Bulletin, and the British Journal of Social and Clinical Psychology, among others.