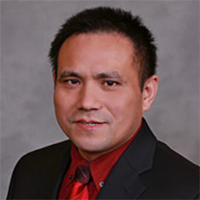 Title
Professor; Director of the Center for Cybersecurity
Email
Education
PhD Computer Science, UT Dallas
M.S. Computer Science, UT Dallas
B.S. Environmental Science, Wuhan University, China

Research Areas
Information Assurance, Digital Forensics, Distributed Computing, Sustainable Computing
Key Areas
cyber security incidents tracking and reconstruction, data loss management, system resilience theory and design
Notable Affiliations
Member of ASEE and IEEE,
National CyberSecurity Institute Fellow
Member of InfraGard.

Biography
Michael Tu received the PhD degree in computer science from the University of Texas at Dallas, in 2006. Dr. Tu is an associate professor in the Department of Computer Information Technology & Graphics (CITG), Director of PNW Center for Cybersecurity and infrastructure Protection, and the point of contact for the National Center of Academic Excellence in Cyber Defense Education at PNW.

His areas of expertise are Cybersecurity and forensics and has published over 40 peer-reviewed papers in journals and conference proceedings. Dr. Tu has over 13 years of college teaching and research experiences in cybersecurity. Dr. Tu has received over 30 industrial trainings in cybersecurity and digital forensics, and has been certified as CISSP, CEH (Certified Ethical Hacker), CPT (Certified Penetration Tester), CHFI (Computer Hacking Forensic Investigator), and ACE (AccessData Computer Examiner).

Dr. Tu's research and education has been supported by National Science Foundation and National Security Agency, including the NSF SFS CyberCorps Grant Award, the Research Experience of Undergraduate Research in wireless communication, the NSF SFS Capacity Building Grant Award to expand the pipeline through promoting K12 cybersecurity education, the NSA Core cybersecurity Curriculum Development Grant Awards to develop secure programming course curriculum for the CAE community and government employees, the CAE Cyersecurity Education Grant Awards to develop an immersive learning method by using 3D virtual reality games and develop a seamless pathway for students transferring from local community colleges to PNW, as well as the GenCyber Summer Camp Awards to host 12 summer camps from 2016 to 2019 for over 400 high school teachers and students from Northwest Indiana area and the neighboring Chicago Metropolitan area.