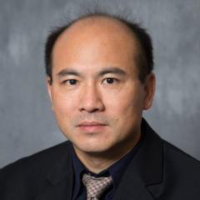 Department
Office Phone
(765) 496-7143
Email
Education
PhD (Computer Science), Michigan State University East Lansing, MI, 2002.
MS (Automation), Tsinghua University Beijing, China, 1998.
BS (Automation), Tsinghua University Beijing, China, 1995.
Prior Appointments
Associate Professor, Computer Technology, Ball State University
Research Areas
Computer Technology, Computer Networks, Information Security, Mobile Computing, and Distributed computing
Notable Experience
President of EECT, ATMAE (2010-2012)
Editor, International Journal of Intelligent Computing and Cybernetics

Notable Awards
2019 - University Faculty Scholar, Purdue University

2010 - Outstanding Teaching Award, Department of Technology, Ball State University
Notable Affiliations
ATAME, President of EECT division, 2010-2012
(ISC)2
ACM
IEEE
IEEE Computer Society
SIGMOBILE
SIGSAC
Publications
• Cable-Based Moving Reachability with Mobile Sensors. Adhoc & Sensor Wireless Networks, 2012
• R2 Trust, a Reputation and Risk based Trust management Framework for Large-scale, Fully Decentralized Overlay Networks. Future Generation Computer Systems, 2012
• Securing Virtualized Datacenters. International Journal of Engineering Research & Innovation (IJERI), 2010
• On the reliability of large-scale distributed systems – A topological view. Computer Networks, 2009
• A framework to Provide Trust and Incentive in CROWN Grid for Dynamic Resource Management. ICCCN) 2006
• Efficient Gnutella-like P2P Overlay Construction. IFIP International Conference on Network and Parallel Computing, 2004.
• DifferServ-Aware Multicasting. Journal of High-Speed Networks, 2004
• Multicasting in MPLS domains. Journal of Computer Communications, 2004

Biography
Dr. Baijian Yang is currently an Associate Professor of Computer and Information Technology at Purdue University in West Lafayette, Indiana. Professor Yang's primary areas of interest are mobile computing, distributed computing, information security, health IT, computer network. He has published books on Smartphone programming. His industry certification includes CISSP, MCSE, and Six Sigma Black Belt. Prior to joining Purdue, Professor Yang was the coordinator of Computer Technology program at Ball State University in Muncie, Indiana.