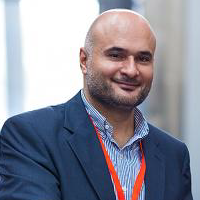 Title
Professor & Director, Purdue HRD VR Lab
Department
Office Phone
765-494-1213
Email
Education
Ph.D., University of Minnesota, Twin Cities, MN

Research Areas
Human Resource Development Leadership Development STEM Workforce Development
Notable Experience
Consulting:
The U.S. Department of Commerce, National Institute of Standards and Technology, The Baldrige Performance Excellence Program
The Higher Learning Commission—Academic Quality Improvement Program Review
The Higher Learning Commission—Academic Quality Improvement Program Consultancy
The Higher Learning Commission—Program to Evaluate & Advance Quality
Harley‑Davidson Motor Company, Milwaukee, WI
The Institute for Clinical Systems Improvement, Minneapolis, MN
FIPECAFI Foundation, University of Sao Paulo, Brazil
Notable Awards
2021, Richard A. Swanson Research Excellence Award, Human Resource Development Quarterly.

2021, Outstanding Faculty in Engagement Award, Purdue Polytechnic Institute.

2021, Outstanding Leadership in Globalization Award for Faculty, Purdue Office of Global Partnerships.

2020, The Seed for Success Award, Purdue University.

2020, Purdue Polytechnic Institute, Outstanding Faculty in Discovery Award.
Notable Affiliations
Academy of Management
Academy of Human Resource Development
Society for Industrial and Organizational Psychology
Society for Human Resource Management

Biography
Mesut Akdere is a Professor of Human Resource Development in the Department of Technology Leadership & Innovation at Purdue University, West Lafayette. Dr. Akdere is the founding faculty of the Human Resource Development undergraduate program at Purdue University. As the director of the Purdue HRD Virtual Lab and Purdue HR Analytics Interactive Learning Lab, Dr. Akdere's research focuses on leadership development through simulated training in augmented reality and virtual reality platforms, workforce development in STEM fields, and human resource analytics in the age of big data. He published in business, management, human resources, technology, training, organization development, and education journals. He teaches courses in human resource development, leadership, training, organization development, cross-cultural management, and strategic planning. Dr. Akdere is the faculty fellow of the Future Work & Learning Research Impact Area at Purdue Polytechnic and he is serving on the editorial boards of several international journals including Human Resource Development Quarterly and Human Resource Development Review.