Today, I attended the funeral in Illinois of another good friend in infosec: Ken Olthoff. Ken was my friend for over 25 years, and his death was a surprise to me and to everyone who knew him. It was also a significant loss to the field, and another sad reminder that each of us needs to live our goals sooner rather than later. The funeral included a great set of remembrances of some aspects of Ken's life and contributions, with the service conducted by his cousin, Pastor Diane Maodush-Pitzer.
Kenneth George Olthoff was born November 18, 1959. He grew up outside Chicago in Thornton, and received a degree from Purdue Calumet. His family remembers him exhibiting, at a young age, great curiosity about how things worked and clear engineering aptitude. Around three decades ago, he joined the NSA, where he worked until his untimely passing.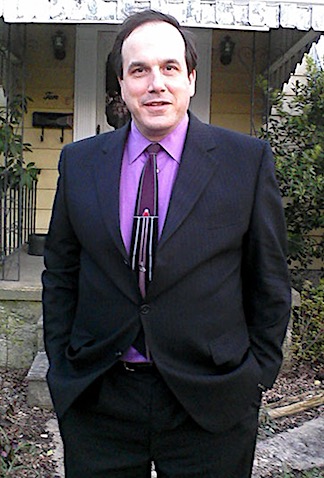 Ken was on leave to visit family in Illinois in early October, as he did twice each year. Along with visiting his relatives, he engaged in some repairs to his childhood home — where he planned to retire in a small number of years, using it as a base for travel. On this most recent visit, he worked his way through his "to do" list, with the last being his annual long distance bike ride of 60+ miles (Ken did a lot of recumbent bicycling all year round). He then had dinner with his brother, Jack, and sister-in-law, Sue. Jack tried to reach him by phone Sunday, October 15, and when he did not get an answer, Jack went to check on him. Jack found Ken sitting in a recliner, in front of the TV. He had died, peacefully, during the night. The medical examiner listed cause of death as cardiaovascular-related. Ken would have been 58 next month.
Ken had many "families" in which he was connected. I think Vonnegut's concept of the "karass" may be more a more accurate characterization. Ken had a wide-ranging curiosity and set of interests that created bridges to all sorts of people. Notably, Ken was a hardworking, creative, and valued contributor to national information security solutions. He wasn't always acknowledged (or even known outside where he worked) for what he did, but many of the people who worked with him treasured his positive contributions. Ken's commitment to "speak truth to power" sometimes grated on a few, but more often was valued within a community that sometimes has been too quick to buy into the "emperor's new wardrobe." I know a little of what Ken did at the Agency, and I have heard from others who knew his work better than I do (because some of it was classified and on a need-to-know basis); more than one of these people have commented that there were many in military service who made it home — alive, to their families — because of things Ken designed or built.
Ken was notable in the broader cybersecurity community, too, although not as well-known as many others. Whether it was as the first person ever identified in the "Spot-the-Fed" at DefCon, or writing outrageous plays about security foibles for performance at NSPW, or any of a number of other activities, Ken also had many admirers and friends outside of where he worked.
Ken was also, in the words of a friend, "… an avid disc golfer and recumbent bike rider, collector of Japanese prints and wood turnings, fan of authentic ethnic cuisines, aficionado of the Chicago music scene (particularly loyal to Pezband), fan and supporter of dirt track racing and youth hockey, and patron and production crew member for Charm City Roller Girls, and the AXIS Theatre and Rapid Lemon Productions companies in Baltimore." He ran several mailing lists on these topics (and more), with eclectic and interesting memberships that evidenced a broad set of interests beyond even these. I learned today that he held at least five patents, on topics ranging from cyber security mechanisms to accessories for musical instruments!
Anyone who knew Ken also remembers his amazing sense of humor (and/or puns), his humility, his generosity, and his (frequent) lack of awareness of pop culture items. Ken was too busy living life to be a regular on social media!
Ken had posted at some point on his LinkedIn profile: "Goals: make positive use of the skills I have, save lives, leave the world a slightly better place than I found it, be a loyal friend, be honest, live my life in a way that gives others something to be thankful for." I think those of us who knew him will agree that he lived those goals, achieved all of them, and often exceeded them. I am sad that I didn't have an opportunity to tell him roughly that — I had resolved to do so after our mutual close friend, Becky Bace (who introduced Ken to me), died suddenly earlier this year, but our schedules did not align soon enough.
You are invited to visit Ken's (brief) online obituary and guest book. The family has indicated that memorial contributions may be given to the American Heart Association.
(I hope the rest of the infosec community remains hale and hearty for a while — we've had too many losses recently.)
---
[I will add to this post if I get other information. In particular, I hope to be able to provide links to his NPSW plays.]