Get some CERIAS and Spaf Swag!
---
[This opportunity is now closed. You can still donate to the listed charities, though!]
---
Want to get some authentic CERIAS and Spaf swag? Read on!
CERIAS offices are moving in a matter of weeks. We don't want to have to box up everything, especially items we aren't likely to use any time soon (if ever) at the new location. Plus, some of these things are items we've heard people might like to have for themselves.
So.... We're going to give some of it away!
What's the catch? Well, we want to encourage people to do something good for others. And, as an institute (CERIAS) at a university (Purdue) and a life-long educator (Spaf), we thought that helping deserving students get cybersecurity education would be the way to do that.
Qualifying
To get some of the swag, as listed below, you need to make a donation to one of these charitable scholarships no later than August 5th, and provide proof of the donation and amount. We'll then package up your gifts and send them (we'll cover shipping inside the United States; if you are outside the U.S. we'll need to negotiate the shipping and any customs).
What charities? Only some of the best for cybersecurity students, and all established in memory of some pioneers in the field:
Rebecca Gurley Bace Scholarship ACSA/SWSIS

You may donate by sending a check to:


Applied Computer Security Associates, Inc.
c/o David Balenson
P.O. Box 1607
Olney, MD 20830-1607


Philippe Courtot/Gene Schultz/Howard Schmidt/Shon Harris Scholarships

These are all administered by the ISSA Educational Foundation.
You can donate online or by check; instructions are posted here.
We'll note here that these are also worthwhile for regular donations. As non-profits, there may be tax advantages to your donations. And be sure to check if your employer has a matching donation program!
Swag
We have established the donation. What's the swag? While supplies last:
From about 1995-2015, Spaf would collect coffee mugs from places he was invited to speak. This includes mugs from Facebook and Google to the NRO and NSA. The collection includes some from locations outside the U.S.A. as well. Currently, there are over 80 of these in the collection plus about 20 CERIAS coffee mugs, including some of the rare 10th anniversary mugs (from 2008).
CERIAS branded items that we obtained to give as speaker gifts. We have only a few of each item left, including luggage tags, T-shirts, portfolios, umbrellas, jackets, and some electronic doo-dads.
CERIAS/Spaf challenge coins!
Some first-printing, never opened, copies of Web Security, Privacy and Commerce, 2nd Edition. If you get a copy, Spaf will autograph it for you!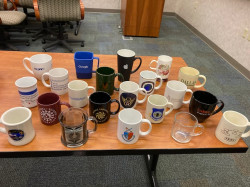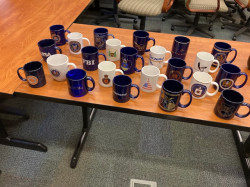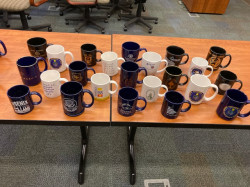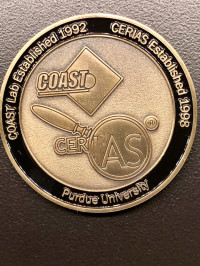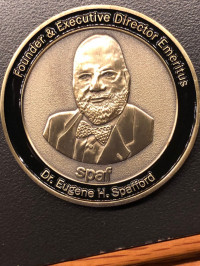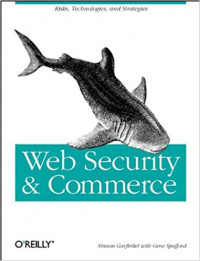 How to Get Some
First, make a qualifying donation to one of the charities. Send proof of the donation, your address, and your shirt/hoodie/jacket size to: <spaf@cerias.purdue.edu>. You'll get the listed items while supplies last. If we run out of an item we will substitute an item of equal or better value.
| Minimum donation | Items shipped |
| --- | --- |
| $150 | 2 of Spaf's coffee mugs plus a CERIAS challenge coin |
| $200 | An additional item of CERIAS-branded merchandise plus 1 CERIAS mug |
| $300 | A copy of the book in addition to the above, plus an additional CERIAS item. |
Remember, these are really all extra gifts. The real value is you making a donation to a worthwhile charity to help some deserving people study cybersecurity!
---
Surprise Bonus!
While cleaning out the storage closet we found a dozen remaining Spaf bobbleheads. This is the last of this collector's item!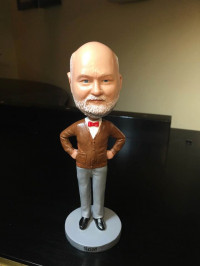 To get one, send us a check for a minimum of $100 made out to "Purdue University" with "Donation to CERIAS" on the memo line. (And, to be clear, Purdue University is also a non-profit entity.) Send the check with your return address to:
Bobblehead c/o Shawn Huddy
CERIAS -- Purdue University
656 Oval Drive
West Lafayette, IN 47907-2086