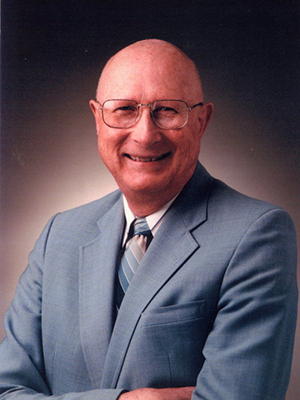 We lost a pioneer in cybersecurity last week: Donn B. Parker died at the age of 91.
Donn's name may not be immediately familiar to current practitioners in the field. That's because Donn was working in the area before some of them were born; Donn's first books on cybercrime were published in 1976 and 1983!
Donn had a profound moral compass that guided his work. He wrote some of the earliest work on applied computing ethics, with an article in Communications of the ACM in 1968. This also informed his scholarly work in security, especially his study of computer crime. This led to his book "Crime by Computer," published in 1976. Thereafter, he published several more books (seven in total) and reports on computer security and computing ethics, all informed by his deep research into computer crime and his conviction to do what was right.
Among other things, Donn is remembered for his creation of a model for describing cybersecurity properties, known in some circles (and Wikipedia) as "The Parkerian Hexad." Donn also was the founder of the I4 -- the International Information Integrity Institute -- the first global organization of information security leaders.
Mr. Parker was a Fellow of the ACM, a Distinguished Fellow of the ISSA, a recipient of the National Computer System Security Award from U.S. NIST/NCSC, and the Harold F. Tipton Lifetime Achievement Award. He was named to the SRI Hall of Fame and the ISSA Hall of Fame. He served as Secretary of ACM from 1966-1970 and as a member of the ACM Council from 1964-1974.
Donn was a giant in the field and in real life -- he was the tallest person I have ever met working in cyber. Those who knew Donn (and I was fortunate to be one of those people) knew him as a kind, generous, and scholarly individual with a gentle sense of humor. He was jokingly referred to as "The Great Bald Eagle of Information Security," something which he accepted with good humor.
Enclosed is a formal obituary, provided by his family. For other information on Donn, it is worthwhile to consult some of his written works, the Shoulders of Infosec entry on Donn, and his oral history at the Babbage Institute. Earlier this year, Donn completed a book that contains material about his work as well as his life that provides insight into his personality.
Donn spoke in the CERIAS seminar series in 1999 and you can see a
video of his presentation here
.
Formal Obituary: Donn Blanchard Parker

Donn B Parker died peacefully in his sleep September 16, 2021, in Sunnyvale California, at age 91. He was born October 9, 1929, in his grandparents' home in San Jose, the son of Donald William and Miriam Estelle (Blanchard) Parker.

Donn deeply loved God, his wife Lorna, children Diane and Dave, and extended family. He served as an elder at Trinity Lutheran Church, Palo Alto, for many years. He enjoyed downhill skiing in the Sierra and Rocky Mountains, water skiing in San Diego, sailing, daily running in Los Altos, and hiking. Donn also enjoyed world travel with wife Lorna, ocean cruises with his children and grandchildren, researching his family history, and performing (any chance he got) a comedy monologue of his favorite stories and jokes. Donn was loved by the staff and his fellow residents at Belmont Village Assisted Living for his kindness, engaging personality, and dedicated care of his wife Lorna in her final years.

Donn received a Master of Arts degree in mathematics from the University of California Berkeley in 1954. His career began with General Dynamics in San Diego, continued at Control Data Corporation in Palo Alto, and concluded at SRI International and its spin-offs in Menlo Park, California. In his professional career, Donn was among the first to recognize, research, and document computer crime. He dedicated his professional life to the safe and sane use of information technology for the good of mankind. He was a consultant, writer, lecturer, and researcher on computer crime and information security as a senior consultant for 35 years at SRI International and afterwards in his retirement.

Donn served many years as member, officer, and Fellow of the Association for Computing Machinery (ACM), Distinguished Fellow of the Information Systems Security Association (ISSA), and trustee of the Charles Babbage Foundation for the History of Information Technology, working to achieve the safe and crime-free use of information technology. He enjoyed his reputation as a contrarian in his concepts of information security.

During his many years of research on computer crime funded by the U.S. National Science Foundation and Department of Justice, Donn interviewed more than 200 computer criminals and collected information on thousands of criminal cases, now stored among his papers in the archives of the Charles Babbage Institute on the History of Information Technology at the University of Minnesota Anderson Library.

Donn wrote seven books during his sixty year career in information technology. His first two books on computer crime and security were published in 1976 and 1983, were New York Times best sellers, and formed the definitive literature on computer crime. Donn wrote the first computer security and computer crime articles for the Computer Science, Encarta, Grolier, and Britannica Encyclopedias.

Donn was interviewed on CBS 60 Minutes by Dan Rather, ABC 20/20 by Geraldo Rivera, NBC Today by Tom Brokaw, and ABC Good Morning by Joan Lungren. People Magazine published two profiles of him, and he was widely quoted in many news and trade publications. Donn testified before several U.S. Congressional committees and assisted in developing the first computer crime statutes for the U.S. federal government, several U.S. states, and the United Kingdom. He trained the first computer crime detectives for New Scotland Yard, Finland, Norway, and Japan. As an information security consultant, he performed security reviews for more than 250 of the largest businesses worldwide, and formed the International Information Integrity Institute (I-4) at SRI in 1986. I-4 continues today to provide confidential information security advisory services.

Donn's professional awards include: the 1992 Award for Outstanding Individual Achievement from the Information Systems Security Association; the 1994 National Computer System Security Award from U.S. NIST/NCSC; The Aerospace Computer Security Associates 1994 Distinguished Lecturer award; and the MIS Training Institute Infosecurity News 1996 Lifetime Achievement Award. In 1999, the Information Security Magazine recognized Donn as one of the five top Infosecurity Pioneers. He was inducted into the Information Systems Security Association's Hall of Fame in 2000, and the SRI International Hall of Fame in 2002. He was recognized as a Certified Information Systems Security Professional (CISSP). In 2003, the International Information Systems Security Certification Consortium (ISC)2 presented him with the Harold F. Tipton Lifetime Achievement Award in "recognition of his sustained excellence throughout his Information Security career and his contributions to the industry and support of (ISC)2."

Donn is survived by his daughter Diane Wisdom and husband; two daughters-in-law, six grandchildren; three great-grandchildren; nephew and niece and their families; and brothers- and sister-in-law and their spouses and children. In addition to his parents, he was predeceased by his loving wife Lorna R Parker, brother Richard Parker, nephew Bob Parker, and son David S Parker.

A memorial service will be held 11am, Saturday, October 16, at St Paul Lutheran Church, 1075 El Monte Avenue, Mountain View, CA. Those wishing to remember Donn may make gifts in his son's name, David S. Parker, to the ALS Association (donate.als.org).