Marcus Ranum - Tenable Network Security
Students: Spring 2022, unless noted otherwise, sessions will be virtual on Zoom.
Privacy in the Age of the Police State
Nov 19, 2014
Download:

MP4 Video
Size:
209.0MB

Watch on YouTube
Abstract
A great deal of discussion about privacy focuses on the technical
details of metadata, data in motion, data at rest, etc -- details which are designed to obscure the basic discussion rather than to illuminate.
In this talk we'll look at some of the philosophical questions regarding privacy and what they may mean in modern terms.
About the Speaker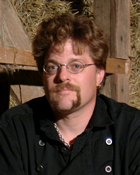 Marcus J. Ranum, Senior Strategist at Tenable Network Security, Inc., is a world-renowned expert on security system design and implementation. He has been involved in every level of operations of a security product business, from developer, to founder and CEO.
Ways to Watch

Watch Now!
Over 500 videos of our weekly seminar and symposia keynotes are available on our
YouTube Channel
. Also check out
Spaf's YouTube Channel
. Subscribe today!