Daniel DeLaurentis - Purdue University
Students: Spring 2022, unless noted otherwise, sessions will be virtual on Zoom.
Systems of Systems: Opportunities and Challenges
Oct 23, 2013
Download:

MP4 Video
Size:
143.9MB

Watch on YouTube
Abstract
What are Systems of Systems? Why are we interested in them? What about them vex us? These topics will be addressed in this overview talk along with emphasis on the analysis of vulnerabilities in SoS Architectures. Our particular work targets advancements in the modeling and analysis of System of Systems (SoS), in particular to support systems engineering activities associated with architecture design, evolution, and operational assessment. We analyze dynamic impacts of interdependencies and uncertainties inherent in SoS. We envision an analytic workbench (populated by a variety of analytical tools from several sources) that makes these analysis capabilities accessible to "SoS System Engineers" in tackling real SoS problems like Air Transportation and Ballistic Missile Defense.
About the Speaker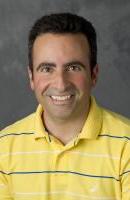 Ways to Watch

Watch Now!
Over 500 videos of our weekly seminar and symposia keynotes are available on our
YouTube Channel
. Also check out
Spaf's YouTube Channel
. Subscribe today!