Aniket Kate - Purdue University
Students: Spring 2022, unless noted otherwise, sessions will be virtual on Zoom.
The Internet of Value: Privacy and Applications
Sep 21, 2016
Download:

MP4 Video
Size:
221.9MB

Watch on YouTube
Abstract
Over the last seven years we have been observing a tremendous growth of crypto-currencies such as Bitcoin and IOU credit networks such as Ripple. Their decentralized and pseudonymous nature, ability to perform transactions across the globe in a matter of seconds, and potential to monetize everything regardless of jurisdiction have been pivotal to their success so far. Despite some major hiccups, their market capitalization is increasing steadily over the years. It is now believed that, in the form of the blockchain technology and the internet of value, these concepts are here to stay.
In this talk, I will first present some of our recent and ongoing efforts to improve the privacy of these inherently distributed systems. I will define the concept of peer-to-peer mixing, present an efficient P2P mixing protocol, and instantiate it in Bitcoin and Ripple. In the latter half of the talk, I will present an innovation application for these payment systems. In particular, I will present a novel Bitcoin-based smart contact for non-disclosure agreement (NDA) among mutually distrusting partners that monetarily penalizes malicious disclosures of the confidential documents.
About the Speaker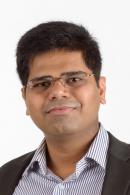 Prof. Aniket Kate is an assistant Professor in the the computer science department at Purdue university. Before joining Purdue in 2015, Prof. Kate was a junior faculty member and an independent research group leader at Saarland University in Germany, where he was heading the Cryptographic Systems Research Group. He was a postdoctoral researcher at Max Planck Institute for Software Systems (MPI-SWS), Germany for 2010 until 2012, and he received his PhD from the University of Waterloo, Canada in 2010.
Prof. Kate designs, implements, and analyzes transparency and privacy enhancing technologies. His research integrates cryptography, distributed systems, and hardware-assisted security.
Ways to Watch

Watch Now!
Over 500 videos of our weekly seminar and symposia keynotes are available on our
YouTube Channel
. Also check out
Spaf's YouTube Channel
. Subscribe today!