Matthew Hashim - Purdue University
Students: Spring 2022, unless noted otherwise, sessions will be virtual on Zoom.
Nudging the Digital Pirate: Behavioral Issues in the Piracy Context
Dec 01, 2010
Download:

MP4 Video
Size:
443.7MB

Watch on YouTube
Abstract
Piracy is a significant source of concern facing software developers, music labels, and movie production companies. Firms continue to invest in digital rights management technologies to thwart piracy, but their efforts are quickly defeated by hackers and pirates. In the context of piracy, we observe a surprising phenomenon: pirates may often choose to purchase the digital good after pirating it. This is quite interesting given the minimal risk of being caught. Since piracy is often considered a victimless crime, we theorize that moral obligation may mediate other constructs from the theory of planned behavior. We believe this is a consequence of the desire for an individual to rationalize unethical behavior, especially when the crime is victimless. We also identify under what circumstances an individual might be susceptible to exogenous nudging from a software company. Salient constructs under initial purchase and piracy conversion intentions are compared to document under which situations they become relevant to the potential pirate.
About the Speaker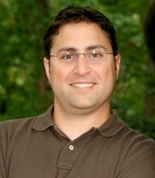 Matthew J. Hashim is a Ph.D. candidate of Management Information Systems in the Krannert School of Management at Purdue University. His primary research interest is in the behavioral aspects of piracy, particularly the role of information in the piracy decision, including the conversion of pirates to paying customers. His research links the information systems literature with interdisciplinary concepts from social psychology and behavioral economics through the use of empirical and analytical research methodologies. Matthew received his M.B.A. from California State University, Fresno in 2003, and his B.S. in Business Administration from California Polytechnic State University, San Luis Obispo in 1999. Matthew worked in industry for approximately 10 years, with experience in IT security, ERP implementation and development, forensics, and other management and IT-related roles.
Ways to Watch

Watch Now!
Over 500 videos of our weekly seminar and symposia keynotes are available on our
YouTube Channel
. Also check out
Spaf's YouTube Channel
. Subscribe today!