Lewis Shepherd - Microsoft
Students: Spring 2023, unless noted otherwise, sessions will be virtual on Zoom.
Challenges for R&D in the Security Field
Aug 29, 2012
Download:

MP4 Video
Size:
445.2MB

Watch on YouTube
Abstract
Long-range research into information assurance and security has seen peaks and valleys over the past three decades, mirroring larger trends including the explosive growth of Internet services and declining technology R&D investment trends. A gulf threatens to develop between the scope and scale of R&D in the private sector, and in the public sector. In particular, rapid iterative advances by commercial and black-hat entities could outstrip government's ability (particularly the US Government's ability) to perform useful basic research and advanced development of innovative tools and algorithms. Yet these malignant trends are occurring at the same time as some very exciting (but unheralded) progress in critical research areas. This talk will examine these trends, explain their context, and discuss significant implications for the field of security research -- and for the advance of trustworthy computing overall.
About the Speaker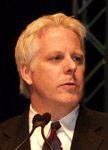 Lewis Shepherd is Director of Microsoft's Institute for Advanced Technology in Governments (MSI), having joined Microsoft as Chief Technology Officer of the Institute in 2007. Lewis joined Microsoft from the U.S. Defense Intelligence Agency (DIA). He has degrees from Stanford University (where he was a Rockefeller Graduate Fellow), the University of Virginia, and the Université Libre de Bruxelles (Belgium). He has also been a guest-lecturer at the Stanford Graduate School of Business for MBA courses on government/Silicon Valley relations. Lewis spent two decades working in and around Silicon Valley, with two startups under his belt, but after the 9/11 attacks he focused on technologies to support the Intelligence Community and in 2003 accepted an offer to become Senior Technology Officer at DIA, where he spent four years participating in a remarkable period of innovation and reform for the intelligence community. Some of his team's work focused on secure information sharing, better analysis, and introducing Web 2.0 capabilities to secure networks, including the first beta versions of popular systems Intellipedia and A-Space.
Ways to Watch

Watch Now!
Over 500 videos of our weekly seminar and symposia keynotes are available on our
YouTube Channel
. Also check out
Spaf's YouTube Channel
. Subscribe today!