Apu Kapadia - Indiana University
Students: Spring 2023, unless noted otherwise, sessions will be virtual on Zoom.
Soundcomber: A Stealthy and Context-Aware Sound Trojan for Smartphones
Nov 30, 2011
Download:

MP4 Video
Size:
447.9MB

Watch on YouTube
Abstract
We introduce Soundcomber, a "sensory malware" for smartphones that uses the microphone to steal private information from phone conversations. Soundcomber is lightweight and stealthy. It uses targeted profiles to locally analyze portions of speech likely to contain information such as credit card numbers. It evades known defenses by transferring small amounts of private data to the malware server utilizing smartphone-specific covert channels. Additionally, we present a general defensive architecture that prevents such sensory malware attacks.
About the Speaker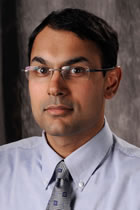 Apu Kapadia is an Assistant Professor of Computer Science and Informatics at the School of Informatics and Computing, Indiana University. He received his Ph.D. in Computer Science from the University of Illinois at Urbana-Champaign in October 2005. Following his doctorate, Prof. Kapadia joined Dartmouth College as a Post-Doctoral Research Fellow with the Institute for Security Technology Studies, and then as a Member of Technical Staff at MIT Lincoln Laboratory.
Prof. Kapadia is interested in topics related to systems' security and privacy. He is particularly interested in privacy-enhancing technologies such as anonymizing networks, usable models and policy languages for privacy, security in peer-to-peer networks, and applied cryptography.j
Ways to Watch

Watch Now!
Over 500 videos of our weekly seminar and symposia keynotes are available on our
YouTube Channel
. Also check out
Spaf's YouTube Channel
. Subscribe today!