Mihaela Vorvoreanu, Lorraine G. Kisselburgh - Purdue University
Students: Spring 2022, unless noted otherwise, sessions will be virtual on Zoom.
Global Study of Web 2.0 Use in Organizations
Oct 06, 2010
Download:

MP4 Video
Size:
444.4MB

Watch on YouTube
Abstract
In this seminar, we present results from a global study about Web 2.0 use in organizations. The study, commissioned by McAfee, Inc., included a worldwide survey of over 1,000 organizational IT leaders, and in-depth interviews with industry experts. Data paint a rich picture of adoption and usage trends, as well as security concerns related to Web 2.0 technologies.
About the Speaker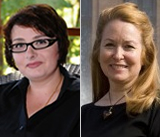 Dr. Vorvoreanu is an assistant professor in Computer Graphics Technology and Organizational Leadership & Supervision at Purdue University. She studies the socio-cultural impact of new communication technologies. Before joining Purdue, she was an assistant professor in the Department of Communication Studies at Clemson University, SC, and the Department of Communication at the University of Dayton, Ohio. While at Clemson and UD respectively, Dr. Vorvoreanu taught various public relations and communication courses, and did academic research in the area of public relations and new Web technologies. . She has published research articles in the Journal of New Communications Research, Public Relations Review and the Journal of Website Promotion and a book about online public relations: Web Site Public Relations: How Corporations Build and Maintain Relationships Online. Dr. Vorvoreanu holds a Ph.D. in Communication from Purdue University.
Lorraine G. Kisselburgh is an assistant professor in Communication at Purdue University, and is also affiliated with research institutes at CERIAS and Discovery Park. She began her career as an information analyst and programmer, and directed the development and use of emerging technologies in higher education. She studies organizational communication, the social implications of emerging technologies, privacy, social networks, and collaboration in online groups. She has published in Communication Yearbook, Management Communication Quarterly, Communication Studies, Journal of Mechanical Design, Journal of Motor Behavior, and Acta Psychologica, and other published books. Dr. Kisselburgh is a member of the Public Policy committee of the ACM, and has served on advisory committees for business intelligence, decision support systems, distance learning, and instructional technology.
Ways to Watch

Watch Now!
Over 500 videos of our weekly seminar and symposia keynotes are available on our
YouTube Channel
. Also check out
Spaf's YouTube Channel
. Subscribe today!