Nick Puketza - UC Davis
Students: Spring 2022, unless noted otherwise, sessions will be virtual on Zoom.
WATCHERS: A Protocol to Detect Disruptive Routers
Oct 16, 1998
Abstract
An attractive target for a computer system attacker is the router. An attacker in control of a router can disrupt communication by dropping or misrouting packets passing through the router. I will present a protocol called WATCHERS that detects and reacts to routers that drop or misroute packets. WATCHERS is based on the principle of conservation of flow in a network: all data bytes sent into a node, and not destined for that node, are expected to exit the node. WATCHERS tracks this flow, and detects routers that violate the conservation principle.
After describing WATCHERS in detail, I will discuss the difficult problems that remain before WATCHERS can be implemented.


About the Speaker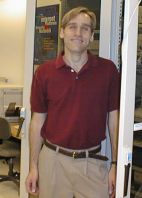 Ways to Watch

Watch Now!
Over 500 videos of our weekly seminar and symposia keynotes are available on our
YouTube Channel
. Also check out
Spaf's YouTube Channel
. Subscribe today!