Students: Spring 2023, unless noted otherwise, sessions will be virtual on Zoom.
What You Don't Know About Hard Drives!
Mar 09, 2022
Download:

MP4 Video
Size:
376.0MB

Watch on YouTube
Abstract
More than half the stored data in the world resides on hard drives. Yes, a 50+ year old technology is storing our photos, music, research, taxes, and more— and nobody blinks an eye. Given that over one zettabyte of hard drive storage shipped in 2020, this storage media is not going away anytime soon.
We at Backblaze manage over 200,000 hard drives to store over 1.3 Exabytes of data. Since 2013 we have tracked every hard drive we've used and each day we record their SMART stats, giving us a unique trove of data that we have regularly analyzed over nearly a decade to learn about hard drives from the inside out. We know how often they fail by model, manufacturer, and size. We can answer the question, do hard drives failure rates follow the bathtub curve? We know how temperature affects hard drives. We can show you how machine learning capabilities could be used to predict hard drive failure. We can even provide a life expectancy forecast for all our hard drives. One more thing, we've open-sourced the data so you can do all of this yourself, just for fun.
About the Speaker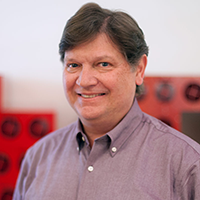 Andy Klein has 25 years of experience in the cloud storage, email security, and network security fields. At Backblaze he dives into terabytes of hard drive SMART data to deliver quarterly and annual Drive Stats reports detailing hard drive failure rates and other unique facts, figures, and insights. Prior to Backblaze Andy has worked at Symantec, Checkpoint, PGP, and PeopleSoft, as well as startups throughout Silicon Valley. He has presented at the Federal Trade Commission, RSA, MSST, SNIA/SDC, and other security and cloud storage events in the US and Europe.
Ways to Watch

Watch Now!
Over 500 videos of our weekly seminar and symposia keynotes are available on our
YouTube Channel
. Also check out
Spaf's YouTube Channel
. Subscribe today!