Scott Shackelford - Indiana University
All seminars for Spring 2021 will be held virtually. (No in-person classroom)
Join us live on Zoom >
(
Register to receive a reminder
)
Wednesday, Jan 27, 2021 04:30pm - 05:30pm EDT
The Internet of Things: What Everyone Needs to Know
Jan 27, 2021
Abstract
The Internet of Things (IoT) is the notion that nearly everything we use, from gym shorts to streetlights, will soon be connected to the Internet. Industry and financial analysts have predicted that the number of Internet-enabled devices will increase from 11 billion to upwards of 25 billion in coming years. Regardless of the number, the end result looks to be a mind-boggling explosion in Internet connected stuff. Yet, there has been relatively little attention paid to how we should go about regulating smart devices, and still less about how cybersecurity should be enhanced. Similarly, now that everything from refrigerators to stock exchanges can be connected to a ubiquitous Internet, how can we better safeguard privacy across networks and borders? This talk will explore these issues by pulling from the recently published book, 'The Internet of Things: What Everyone Needs to Know.' Our discussion will also be couched by the findings of a recent report for the Indiana Executive Council on Cybersecurity entitled, 'State of Hoosier Cybersecurity 2020.'
About the Speaker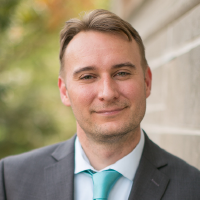 Professor ScottJ. Shackelford
serves on thefaculty of Indiana University where he is Cybersecurity Program Chair alongwith being the Executive Director of the Ostrom Workshop. He is also anAffiliated Scholar at both the Harvard Kennedy School's Belfer Center forScience and International Affairs and Stanford's Center for Internet andSociety, as well as a Senior Fellow at the Center for Applied CybersecurityResearch, and a Term Member at the Council on Foreign Relations. ProfessorShackelford has written more than 100 articles, book chapters, essays, andop-eds for diverse publications. Similarly, Professor Shackelford's researchhas been covered by an array of outlets, including Politico, NPR, CNN,Forbes, Time, the Washington Post, and the LA Times. He is also the author of The Internet of Things: What Everyone Needsto Know (Oxford University Press, 2020), Governing New Frontiers in the Information Age: Toward Cyber Peace (CambridgeUniversity Press, 2020), and ManagingCyber Attacks in International Law, Business, and Relations: In Search of CyberPeace (Cambridge University Press, 2014). Both Professor Shackelford'sacademic work and teaching have been recognized with numerous awards, including
a Harvard University Research Fellowship, a Stanford University HooverInstitution National Fellowship, a Notre Dame Institute for Advanced StudyDistinguished Fellowship, the 2014 Indiana University Outstanding JuniorFaculty Award, and the 2015 Elinor Ostrom Award.
Ways to Watch

Watch Now!
Over 500 videos of our weekly seminar and symposia keynotes are available on our
YouTube Channel
. Also check out
Spaf's YouTube Channel
. Subscribe today!