Yoon Auh - NUTS Technologies Inc.
Students: Spring 2022, unless noted otherwise, sessions will be virtual on Zoom.
NUTS: The Beta Demo
Oct 06, 2021
Download:

MP4 Video
Size:
573.4MB

Watch on YouTube
Abstract
Beyond End-to-End Encryption (BE2EE) technology can protect your data in-transit and at-rest in a consistent way: NUTS may help define this new category. Last year, we presented the technology of NUTS (https://ceri.as/nuts2020). This year, we demonstrate NUTS in action with our Beta version. See secure objects move around in cyberspace without a central reference monitor in a transport agnostic way. The demo will show practical use cases that NUTS enables. The global pandemic drastically altered our way of life and Work-From-Home presents technical challenges that reveal the structural weaknesses of our largest systems. Adversarial threats are now more common place and large outages are frequent. We believe NUTS shows a new path towards a more resilient operating environment for our data. We strongly recommend viewing last year's presentation (
https://ceri.as/nuts2020
)to better understand the background and approach of the tech.
Joining us for this session will be COL (Ret) Robert Banks, USA, PhD. who served as Deputy Director, Current Operations of U.S. Cyber Command with his insights and comments on this technology. Dr. Banks retired from the U.S. Army after a distinguished 37-yearcareer. His previous services include Chief of Operations of the Army Global Network Operation & Security Center, Command of the largest Army Helicopter Battalion of 64 Chinooks covering 8 states, and providing significant contributions at the Joint Staff Cyberspace Division, National Counterintelligence Security Center, Army Defense Industrial Base, Asymmetric Warfare Office - Electronic Warfare, National Guard Bureau, and Co-Chaired the Smart Grid Interoperability Panel, while supporting the Tri-County Electric Cooperative. He holds numerous advanced degrees including a PhD in Information Technology from George Mason University specializing in Hybrid Security Risk Assessment Models. Additionally, he holds the following certifications: CISSP, PSDGP, ITILv3, AWS-CCP, AZURE-AI.
About the Speaker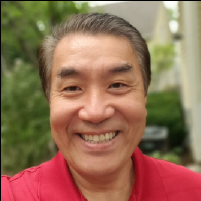 Yoon Auh, CISSP, is the founder and CEO of NUTS Technologies Inc., a midwestern deep infrastructure technology startup. He holds multiple US patents around structured security, structured cryptography and secure data management. His firm is breaking new grounds in applying security at the data layer in a portable form to achieve full BE2EE. He graduated from Columbia College in NYC with a BA in Physics and a BS in Engineering Mechanics from Columbia School of Engineering. Yoon's prior career was in finance and technology culminating to a successful career as Head Trader for several world class financial firms. NUTS was created to fill the gaps in technology that don't get addressed in the way it ought to be.
Ways to Watch

Watch Now!
Over 500 videos of our weekly seminar and symposia keynotes are available on our
YouTube Channel
. Also check out
Spaf's YouTube Channel
. Subscribe today!