Anish Bhimani - Global Integrity
Students: Spring 2023, unless noted otherwise, sessions will be virtual on Zoom.
The Evolving Corporate Public-Key Infrastructure
Apr 09, 1999
Abstract
This talk will begin with the role of public-key cryptography in securing electronic commerce and the need for a public-key certification infrastructure (PKI) as a basis of trust in public keys. It will explain how certification authorities, registration authorities, and directory services work, and who is building these products.
The majority of the talk will focus on new trends in PKI deployment, including:

Revocation vs. validation models
Interoperability testing between products
Attribute certificates and authorization solutions
Integration of the PKI with applications
The role of the Certification Practice Statement (CPS)
Personal Security Enivornments (PSEs)
Outsourcing and management issues
Both global and local solutions, along with ways to link the two, will be explained. The talk will also discuss some of the legal questions surrounding the use of public-key certificates within an organization.
About the Speaker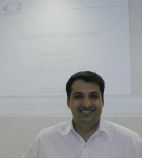 Anish Bhimani is Chief Scientist of Global Integrity Corporation, an SAIC company. In this position, he is responsible primarily for the introduction of new technologies into Global's vast array of professional services. His primary efforts focus on the deployment of public-key technology and the development of public-key infrastructures (PKI) to support electronic commerce over the Internet.
Prior to joining SAIC, he was the Director of Bellcore's Security and Fraud Reduction Group. In this role, he was responsible for all data communications security consulting performed by Bellcore.
Anish has been working in the security area for a number of years, and has become a recognized expert in the area of Internet security. In the past, Anish's work has focused on the security of interconnected data communications networks. Much of Anish's work also relates to the design and deployment of enterprise security architectures. He has spoken to numerous industry groups around the world on these subjects.
Anish is the co-author of the book Internet Security for Business published by Wiley & Sons in June 1996. He has also written numerous articles and technical papers on the subjects of Internet security and electronic commerce.
Ways to Watch

Watch Now!
Over 500 videos of our weekly seminar and symposia keynotes are available on our
YouTube Channel
. Also check out
Spaf's YouTube Channel
. Subscribe today!