Gerald Thomas - Political Science, Purdue University
"Commercial High-Resolution Satellite Imagery Polic"
Feb 11, 2000
Download:

MP4 Video
Size:
196.3MB

Watch on YouTube
Abstract
In October of 1999, Denver based Space Imaging launched the world's first very-high resolution commercial satellite, IKONOS 2, into polar orbit around the earth. For the first time in history, sub-1 meter near real time digital imagery is now available for virtually the entire globe to anyone with a credit card and access to the internet. This talk will explore: (1) the policy history around the US government's decision to let this technology "go commercial," (2) the status of current US remote sensing policy and some remaining policy issues that still need to be addressed, and (3) the potential implications of this information revolution for national security, law enforcement, privacy, and several other issues.
About the Speaker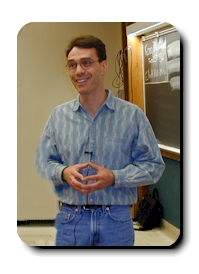 Dr. Gerald Thomas is an assistant professor of political science at Purdue University where he teaches and does research in the area of public policy. His current research interests focus at the intersection of environmental policy and science and technology policy. He has published on the topics of environmental security, US national security policy, and US space policy.
Unless otherwise noted, the security seminar is held on Wednesdays at 4:30P.M. STEW G52 (Suite 050B), West Lafayette Campus.
More information...
Ways to Watch

Watch Now!
Over 500 videos of our weekly seminar and symposia keynotes are available on our
YouTube Channel
. Also check out
Spaf's YouTube Channel
. Subscribe today!