Joseph M. Silcox - Raytheon Command, Control, and Communications Systems
Students: Spring 2023, unless noted otherwise, sessions will be virtual on Zoom.
Secure Knowledge Management Portal
Sep 12, 2001
Abstract
With some clever integration of commercial off-the-shelf (COTS) technologies, it is now possible to develop a scalable and flexible solution to managing large quantities of classified information at considerably lower lifecycle costs than what was previously possible by using Trusted Compartmented Mode Workstations.

Security officers need to manage and control individual security access and establish what accesses users have in common with others without any other data being revealed. A secure data base management system can provide automated workflow processes to control an individual's access to any type of sensitive data, and it may used to make adjudication decisions. In addition, it can provide common users with an electronic "third-party-introduction."

With slight modification, a COTS document management system can also meet DoD requirements for Compartmented Processing Environments. Integrating a public key infrastructure (PKI) and a Content Management System can ensure that users have access to the right data at the right time. A content management server can implement a content repository and a rich set of workflow and process automation services that manage and control the end-to-end lifecycle of content, from its creation and capture to routing for approval and publishing in preferred formats.

Discussed will be an accredited Secure Compartmented Mode Knowledge Management Portal which--by integrating workflow, robust security, lifecycle services, and a data dictionary for capturing and configuring business rules and practices--makes it easy to define, organize, and monitor securely all the functions and tasks involved in the most complex business processes.

About the Speaker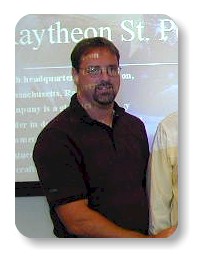 Mr. Silcox leads the Secure Networks Integration Group located in St. Petersburg Florida which focuses on the integration and development of COTS solutions to meet the stringent security requirements for Government systems. He has a software development background and holds a BS in Computer Information Science.
Ways to Watch

Watch Now!
Over 500 videos of our weekly seminar and symposia keynotes are available on our
YouTube Channel
. Also check out
Spaf's YouTube Channel
. Subscribe today!