Brian Barnier & Prachee Kale - Think.Design.Cyber
Students: Spring 2023, unless noted otherwise, sessions will be virtual on Zoom.
Making Cybersecurity Reliable and Cybersecurity Careers Rewarding
Nov 16, 2022
Download:

MP4 Video
Size:
231.1MB

Watch on YouTube
Abstract
People face increasing dangers from cyber enemies. At the same time, cyber pros are suffering from stress, burnout and "hamster wheel"syndrome. They experience many difficulties every day in easily protecting people and companies from danger.
There is a different option. Cyber pros have the opportunity of better work-life balance, more rewarding careers and achieving their personal missions to better protect people and companies – by making cybersecurity as reliable as electricity.
How? The same way as other business functions do – with curiosity,critical thinking, system thinking and industrial-strength design thinking. The same way business innovation created products that delight us in daily life.The same way music, sports and cooking bring us joy. The same way military battles are won. It takes learning to think counter intuitively and to change.
But there's a twist, business innovators have education,method and coaching at the individual, team and organizational levels.
Compared to other business functions, cyber pros are setup to fail. The support system for cyber pros is missing!
The good news is, it's readily fixable! That starts with putting people in the center of cybersecurity – empowering cyber pros to more easily protect people from danger, accelerating authentic Zero Trust and making cybersecurity as reliable as electricity.
Join us to learn and map-out your action plan.
About the Speaker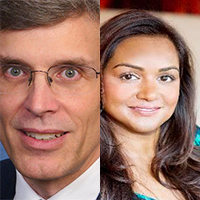 Brian Barnier is the co-founder of Think.Design.Cyber and the think-tank, CyberTheory Institute that bridges the gap between boards,business leaders, cybersecurity leaders and compliance.
Brian has pioneered critical, systems and industrial design thinking in the cybersecurity discipline and the use of life-like scenario analysis to address critical issues of evolving threats/attacks, eliminate bad methods that cause breaches, waste money and resources and burnout cyber pros,affecting culture and retention.
He is the author of The Operational Risk Handbook (Harriman House, Great Britain, 2011) used as a textbook by the London Institute of Banking & Finance. In 2020, Brian's paper with expert Prachee Kale,"Cybersecurity: The Endgame -- Part 1" was honored as the 2020 Article of the Year in the Taylor and Francis EDPACs journal.
Brian has earned coveted achievement awards from two of ISACA's most significant chapters. In 2021, he earned the highly distinguished Joseph J. Wasserman Award presented by ISACA New York Metro Chapter. In 2015, he received the V. Lee Conyers Award from ISACA Greater Washington DC.
Deep in professional guidance, he is a co-author of ISACA's Risk IT and COBIT, and the Shared Assessments Program. ISACA's IT Audit Framework 2020 points to his work in risk assessment. He is one of the first three "Fellows" of OCEG -- the Open Compliance & Ethics Group – the organization that created "Governance, Risk and Compliance."
Prachee Kale is the co-founder of Think.Design.Cyber, a Founding Executive Fellow of CyberTheory Institute and a multi-disciplinary professional with a 17 year, "4D" career spanning: Cybersecurity& Tech, Business Strategy, Diversity & Inclusion and Executive Coaching.
Prachee's current work is focused on 1) coaching introverted cyber professionals (who account for 60%+ of cyber workforce) to build their brand and become strong leaders without changing their personalities and, 2)bringing critical, systems and design thinking to cybersecurity organizations so they can accelerate Zero Trust implementation, drive demonstrable business outcomes and cost savings, improve culture and reduce burnout.
Her article "Cybersecurity: The End Game Part 1" in the Taylor and Francis EDPACs journal was honored as "2020 Article of the Year."
In cybersecurity, she has managed strategic investments of over $150 million, reduced spend by 20+%, eliminated antagonistic culture and demonstrated 90% retention rate for more than 3 years Prachee's business strategy experience comes from working on business and ops/tech transformations, enterprise risk and regulatory mandates, in management consulting and the World Bank.
As a leader in the DEI dept., she is accelerating diversity and ESG initiatives. Prachee is the Executive Sponsor for the Women Leaders program focused on increasing representation of women of all backgrounds.
She earned an M.S. in Bioinformatics from George Washington University, which is about building tech for biological research. She wrote code, conducted scientific experiments on HIV viruses, and did PCR tests (yep,those). Think invasive viruses, the pandemic and cybersecurity!
Ways to Watch

Watch Now!
Over 500 videos of our weekly seminar and symposia keynotes are available on our
YouTube Channel
. Also check out
Spaf's YouTube Channel
. Subscribe today!