Scott Sage, Erin Miller
Students: Fall 2023, unless noted otherwise, sessions will be virtual on Zoom.
How the Cyberspace Domain has Changed the Game for the Space Domain
Sep 27, 2023
Abstract
This is a hybrid event. Students are encouraged to attend in person: STEW G52(Suite 050B)
As the commercial and international space community grows to reach the projected $1T for the global economy, the vast domain of space becomes increasingly congested and contested. In this Seminar the Space Information Sharing and Analysis Center (Space ISAC) and the National Cybersecurity Center (NCC) team up to share their perspectives and insights on the intersection of cyber and space, how the game is changing, and what effect this will have on government, industry and academia. 

This talk will discuss the technology trends in the industry, threats to space systems, and make recommendations to students and faculty about how to navigate the landscape of space domain cybersecurity over the next five years.
About the Speaker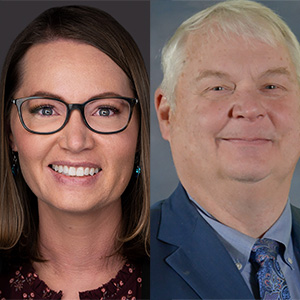 Mr. Scott Sage is the Chief Operating Officer of the National Cybersecurity Center, a national-level nonprofit organization that provides collaborative cybersecurity knowledge and services to the United States. He encourages, engages, and equips others to solve worthwhile hard problems like his most recent assignment to develop a new space cybersecurity market for Peraton Inc. He also recently developed a complicated IR sensor development from a blank sheet of paper to launch and operation in under 24 months, and his prior conception and execution of an Insider Threat and Information Warfare Behavior Based Analytics R&D project that generated 2 patents and increased interest from DoD and Intelligence Community customers.
Past accomplishments include:
·      Automated Mission Impact Assessment of Network Disruptions - Patent 8347145
·      Concept to Low Earth Orbit IR Sensor for Space Development Agency < 2 years
·      Northrop Grumman Sector Cyber and Information Operations Strategy Development
·      Industry-leading technology development for scalability in satellite C2 automation
·      Increased worldwide frequency access for Low Earth Orbit satellite communications
·      House Armed Services Committee praise for highly classified space advocacy plan
·      Conceptualized, researched and constructed unique DoD Space Order of Battle Annex
·      Highly praised Master of Science thesis addressing satellite radiation effects
Before devoting his work full time to visionary growth development for Peraton, Scott managed counter- hypersonics development for Northrop Grumman, advanced cyber defense systems development for AT&T, and advanced space operations programs for aerospace companies and the US Navy.
Scott has published international export material on cybersecurity issues associated with virtualization and cloud computing and developed a nation-wide R&D network for Northrop Grumman that allowed critical technologies to be brought online for use on high priority captures worth over $8.6B in future revenue.
Scott has also been a Certified Information Systems Security Professional (CISSP) and Homeland Security Expert since going to work after completing 15 years of US Navy service as a Commander. Scott volunteered as the co-chair of the Space ISAC Information Sharing Working Group and co-chair for the DHS CISA Future of Space Working Group and has volunteered at Penrose hospital and the Colorado Springs Rescue Mission, along with being a leader at his church. Formal degrees include a M.S., Space Systems Electrical Engineering from the Naval Postgraduate School in Monterey, B.S., Nuclear Engineering & B.A., Journalism & Mass Communication from Iowa State University, Ames, IA.
Ms. Erin M. Miller is the Executive Director of the Space Information Sharing and Analysis Center (Space ISAC). Space ISAC serves as the primary focal point for the global space industry for "all threats and all hazards." Stood up at the direction of the White House in 2019, Erin led the Space ISAC to open its operational Watch Center, alongside its Cyber Malware and Analysis Vulnerability Laboratory in Colorado Springs, CO, USA. Under Erin's leadership, Space ISAC's headquarters facility is already serving several countries to achieve its mission of security and resilience for the global space industry. Each year Space ISAC puts on the Value of Space Summit (VOSS), co-hosted with The Aerospace Corporation at the University of Colorado Colorado Springs.
Erin has over a decade of experience building meaningful tech collaborations and has formed hundreds of formal partnerships between government, industry and academia to solve problems for war fighters and national security.
As a serial entrepreneur in the non-profit space, she thrives in launching new programs and new organizations from stand up through building and scaling operations.
Erin was the Managing Director of the Center for Technology, Research and Commercialization(C-TRAC) and brought three USAF-funded programs to bear at the Catalyst Campus for Technology & Innovation (www.catalystcampus.org). Her expertise in brokering unique partnerships using non-FAR type agreements led to the standup of the Air Force's first cyber focused (#securebydesign) design studio,AFCyberWorx at the USAF Academy, and the first space accelerator, Catalyst Accelerator, at Catalyst Campus in Colorado Springs - in partnership with Air Force Research Laboratory and AFWERX.
In 2020 Erin was a recipient of the Woman of Influence award. In 2018 Erin was recognized by the Mayor of Colorado Springs as Mayor's Young Leader (MYL) of the Year Award for Technology. She is also the recipient of Southern Colorado Women's Chamber of Commerce Award for Young Female Leader in 2018.
In her previous roles she developed and managed intellectual property portfolios, technology transfer strategies, export control/ITAR, secure facilities, and rapid prototyping collaborations.
Erin serves on the advisory board of CyberSatGov, CyberLEO and is a board member for the Colorado Springs Chamber of Commerce & EDC. She has guest lectured at Georgetown University, United States Air Force Academy, University of Colorado at Boulder, and Johns Hopkins University. She is frequently found public speaking at notable events like, Defense Security Institute's Summits, CyberSatGov, State of the Space Industrial Base, and other forum focused on security and space resiliency and critical infrastructure.
Ways to Watch

Watch Now!
Over 500 videos of our weekly seminar and symposia keynotes are available on our
YouTube Channel
. Also check out
Spaf's YouTube Channel
. Subscribe today!