J.R. Rao - IBM
Students: Spring 2023, unless noted otherwise, sessions will be virtual on Zoom.
J.R. Rao, IBM Research
Apr 04, 2012
Abstract to be added later
About the Speaker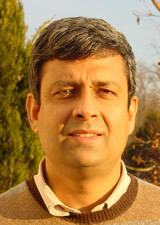 Dr. J.R. Rao leads Security Research at IBM. Based in IBM's Thomas J. Watson Research Center, the global team comprises over a hundred researchers who work in the areas of Cryptography,Cybersecurity, Cloud, Mobile Security and Secure Platform Technologies. JR works closely with customers, academic partners and IBM business units to drive new and innovative technologies into IBM's products and services and definitive industry standards. The goal of his research is to significantly raise the bar on the quality of security while simultaneouslyeasing the overhead of developing and deploying secure solutions. JR has published widely in premier security conferences and workshops and and holds numerous US and European patents. He chairs the Industry Advisory Board of the Georgia Tech Information Security Center and is a member of the prestigious IBM Academy of Technology as well as emeritus member of IFIP's Working Group 2.3 (Programming Methodology). JR obtained his doctorate degree from the University of Texas at Austin in 1992, a M.S. in Computer Science from the State University of New York at Stony Brook, 1986 and a B.Tech. in Electrical Engineering from the Indian Institute of Technology, Kanpur, 1984.
Ways to Watch

Watch Now!
Over 500 videos of our weekly seminar and symposia keynotes are available on our
YouTube Channel
. Also check out
Spaf's YouTube Channel
. Subscribe today!