Kacper Gradon - University College London
Students: Spring 2022, unless noted otherwise, sessions will be virtual on Zoom.
Future Trends in Cyber Crime and Hybrid Warfare
Dec 01, 2021
Download:

MP4 Video
Size:
857.9MB

Watch on YouTube
Abstract
"Do Criminals Dream of Electric Sheep?" Such issue is no longer a domain of futurologists and science-fiction writers, but a serious question asked by the EUROPOL alarmed by how emerging Information Technologies shape the future of crime and law-enforcement. Apart from its obviously positive effects, the technology also impacts and affects the way criminal offenders, terrorists and rogue governments operate at the stages of know-how gathering, planning, preparation and execution of their attacks. The progress in the development of IT and its accessibility is so unprecedentedly high, that– in order not to lag behind – the law-enforcement and intelligence communities need to research and analyze the further and potential advances (and design the potential preventive measures) promptly. The presentation addresses the problem of a lack of forecasting/analytical approach to the study of an impact of emerging and disruptive technologies on the criminal, terrorist and information warfare landscape. The author aims to deliver the most up-to-date analysis of the threats to come, together with a set of plausible solutions on how to deter and mitigate the risk. The presentation will characterize the dangers posed by the potential abuse of Information Technologies by the criminal/terrorist/state actors. The author will deliver an analysis articulating the key factors implicated in events related to the technology abuse, across all stages of the event. The presentation will cover such areas as e.g.: 1) abuse of the open source information for planning, preparation & execution of the attack; 2) hazards associated with the abuse of wearable devices; 3) use of mobile technologies to profile, select and groom potential activists or extremists or to enable human trafficking and sexual exploitation of children; 4) attacks on Internet of Things networks for targeting specific individual/entity or to create mass-level disruption incl. attacks on critical national infrastructure; 5)hijacking of autonomous vehicles; 6) use of drones (aerial, ground operating, hydroid) for surveillance, as weapons, for drugs delivery, as burglary bots, as tools to disrupt civil aviation or military systems; 7) attacks on IP-enabled medical devices; 8) the use of (semi)autonomous robots; 9) the use of the Artificial Intelligence, machine-learning, deep-learning and reinforcement learning techniques for various criminal/terrorist objectives; 10) abuse of blockchain technologies and crypto-currencies (financing of terrorism, money laundering, bribery, financing of illegal activities, extortion/ransomware); 11)abuse of 3D printing technologies; 12) risk associated with Quantum Computing and 5G telecom networks (increased capabilities of criminal/terrorist/cyber-warfare operations). A special focus will be put on Information Warfare (hybrid and asymmetric threats), where disinformation, misinformation and propaganda are used by nation states in a general scheme of malign foreign influence to disrupt the situation abroad.
About the Speaker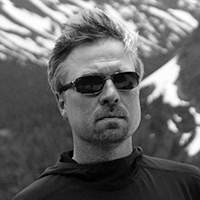 ]
Dr. hab. Kacper Gradon, Ph.D. is the Visiting Fulbright Professor at University of Colorado Boulder and the University College London Honorary Senior Research Fellow at UCL Department of Security and Crime Science. His research expertise includes Future Crimes, cyber crime,criminal analysis and counter-terrorism. His current research is focused on designing the methods for preventing and combating disinformation, misinformation and malign foreign influence. He's a member of the World Health Organization (WHO) working group on infodemiology and the WHO-trained Infodemics Manager. His research interests include the application of Open Source Intelligence and digital & Internet forensics and analysis to forecasting and combating criminal and terrorist acts. He has over 20 years of experience of consultancy and cooperation with Police and Intelligence services in Poland, UK, US and Canada. Graduate of the London Metropolitan Police Specialist Operations Training of Hostage Negotiations, the NCFTA/FBI Dark Web Investigations and the IALEIA Open Source Intelligence courses. Lectured and held visiting professorship positions in the UK, USA, Canada, India, Australia and New Zealand. Participated in over 200 academic and Police conferences and events worldwide. He was the UoW Primary Investigator in the 2014-2017 European Commission FP7 project PRIME (Preventing, Interdicting and Mitigating Extremist Events) dealing with lone-actor extremism and terrorism. He can be reached at k.gradon@ucl.ac.uk and kacper.gradon@colorado.edu
Ways to Watch

Watch Now!
Over 500 videos of our weekly seminar and symposia keynotes are available on our
YouTube Channel
. Also check out
Spaf's YouTube Channel
. Subscribe today!