Edward J. Delp - Video and Image Processing Laboratory (VIPER), Purdue School of Electrical and Computer Engineering
Students: Spring 2023, unless noted otherwise, sessions will be virtual on Zoom.
Image and Video Watermarking: An Overview
Sep 10, 1999
Download:

MP4 Video
Size:
246.0MB

Watch on YouTube
Abstract
In the past several years there has been an explosive growth in digital imaging technology and applications. Digital images and video are now widely distributed on the Internet and via CD-ROM. One problem with a digital image is that an unlimited number of copies of an "original" can be easily distributed and/or forged. This presents problems if the image is copyrighted. The protection and enforcement of intellectual property rights has become an important issue in the "digital world." Many approaches are available for protecting digital images and video; traditional methods include encryption, authentication and time stamping. In this talk we describe algorithms for image authentication and forgery prevention known as digital watermarking. A digital watermark is a signal that is embedded in a digital image or video sequence that allows one to establish ownership, identify a buyer or provide some additional information about the digital content. In this talk we will review the current state of watermarking and describe some of the open research problems.
About the Speaker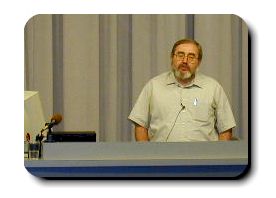 Edward J. Delp was born in Cincinnati, Ohio. He received the B.S.E.E. (cum laude) and M.S. degrees from the University of Cincinnati, and the Ph.D. degree from Purdue University. From 1980-1984, Dr. Delp was with the Department of Electrical and Computer Engineering at The University of Michigan, Ann Arbor, Michigan. Since August 1984, he has been with the School of Electrical and Computer Engineering at Purdue University where he is a Professor of Electrical and Computer Engineering.He is a Fellow of the IEEE, a Fellow of the SPIE, and a Fellow of the Society for Imaging Science and Technology (IS&T).
His research interests include image and video compression, multimedia security, medical imaging, multimedia systems, communication and information theory. Dr. Delp has also consulted for various companies and government agencies in the areas of signal and image processing, robot vision, pattern recognition, and secure communications.
More information about Professor Delp may be found in his online

bio
.
Ways to Watch

Watch Now!
Over 500 videos of our weekly seminar and symposia keynotes are available on our
YouTube Channel
. Also check out
Spaf's YouTube Channel
. Subscribe today!