David Aucsmith - Intel Corporation
Students: Spring 2023, unless noted otherwise, sessions will be virtual on Zoom.
Balancing Big Brother
Oct 15, 1999
Download:

MP4 Video
Size:
374.0MB

Watch on YouTube
Abstract
This talk addresses the issue of reconciling the needs of law enforcement and national security with the continuing evolution of computer and communications technology. It will describe the needs of both the law enforcement and national security communities including their current technical requirements and solutions. It will then describe technological trends and show how technical imperatives will render current solutions ineffective. It concludes with a description of possible directions that may be used to meet both law enforcement and national security needs while accounting for both technical evolution and social rights.
About the Speaker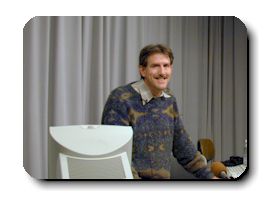 David Aucsmith is the chief technologist for data and communications security technology at Intel Corporation. He is responsible for research, development and deployment of data and communications security technologies and products, in both hardware and software. Additionally, he is responsible for technical policy issues regarding security technology and serves as Intel's technical interface to regulatory organizations. He is currently working on industry standard architectures for the application and interoperability of data security technologies for communications, electronic commerce, and content protection. Previously, he was the architect of Intel's Common Data Security Architecture (CDSA), which is now an Open Group standard.
Prior to joining Intel, David was the manager of Trusted Systems Development at Sequent Computer Systems. There he was chief architect and manger of the team that developed the first TCSEC compliant B1 level symmetric multiprocessor secure computer system. He earned MS degrees in CS from Georgia Tech, and in Nuclear Physics from NPS, and held the rank of Lieutenant Commander in the US Navy.
Ways to Watch

Watch Now!
Over 500 videos of our weekly seminar and symposia keynotes are available on our
YouTube Channel
. Also check out
Spaf's YouTube Channel
. Subscribe today!