Ida Ngambeki - Purdue University
All seminars for Spring 2021 will be held virtually. (No in-person classroom)
Ida Ngambeki
Jun 16, 2021
Abstract to be added later
About the Speaker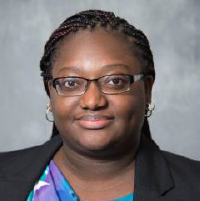 Ida Ngambeki is an Assistant Professor of Computer and Information Technology at Purdue University. Ida's research is in understanding how the affordances of information technologies affect individuals' learning and decision-making and the wider policy implications of those choices. Her research investigates the social and psychological factors influencing individuals' cybersecurity choices, how students learn secure programming, how individuals develop an interest in and make-decisions about their careers in STEM and how individuals use information technology to engage in transnational political participation.
Ways to Watch

Watch Now!
Over 500 videos of our weekly seminar and symposia keynotes are available on our
YouTube Channel
. Also check out
Spaf's YouTube Channel
. Subscribe today!