Dipankur Gupta - HP
Students: Spring 2022, unless noted otherwise, sessions will be virtual on Zoom.
Security at HP
Nov 13, 1998
Abstract
The talk will first quickly summarise various security related efforts within Hewlett-Packard. We will focus on security management as the topic. We will describe the motivation behind security management and our work on managing intrusions and misuse which forms part of our security management solution. Finally, we will touch on standards work in this area, and topics for research and possible collaboration opportunities between CERIAS and Hewlett-Packard.
About the Speaker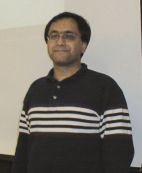 Ways to Watch

Watch Now!
Over 500 videos of our weekly seminar and symposia keynotes are available on our
YouTube Channel
. Also check out
Spaf's YouTube Channel
. Subscribe today!