Samuel Visner - MITRE Labs
Students: Spring 2023, unless noted otherwise, sessions will be virtual on Zoom.
The Evolution of Cybersecurity and its Role in the International System
Mar 02, 2022
Download:

MP4 Video
Size:
658.3MB

Watch on YouTube
Abstract
Precis: The United States encountered digital cyberspace with the gradual rise of digital technology, treating cyberspace as an electromagnetic domain. China encountered cyberspace more swiftly, surpassing several years ago the United States in the number of people connected in cyberspace (now approximately one billion people), treating cyberspace as a domain of human behavior. For the United States, cybersecurity pertains to the protection of information and the systems that depend on information technology. For China, cybersecurity reflects a need to impose acceptable human behavior on this new cyberspace domain. How is China attempting to reshape the international system through this new domain and its own understanding of cybersecurity? This talk will describe the rise of cyberspace and discuss the implications for the United States, its allies, and its partners as they attempt to defend their values and interests in an evolving international system.
About the Speaker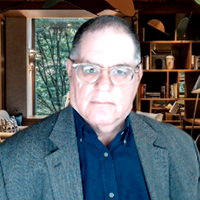 Samuel Sanders Visner is the Vice Chair of the Board Directors of the Space Information Sharing and Analysis Center (Space ISAC). He is also a Technical Fellow at the MITRE Corporation, serving as one of the Corporation's thought leaders for cybersecurity, space systems, and national security. Sam served previously as the Director of the National Cybersecurity Federally Funded Research and Development Center (MITRE), sponsored by the National Institute of Science and Technology. Sam was appointed in 2020 as a member of the Board of Directors of the Oak Ridge Associated Universities. Sam is an adjunct professor of Science and Technology in International Affairs at Georgetown University, where he teaches a course on cybersecurity policy, operations, and technology.
Sam is a member of the Council on Foreign Relations and the Atlantic Council and is a member of the Intelligence Community Studies Board of the National Academy of Sciences, serving the Office of the Director of National Intelligence. Sam served previously as a member of the Army Science Board. Sam also served previously as Senior Vice President at ICF (General Manager, Cybersecurity and Resilience), Vice President at CSC (General Manager, CSC Global Cybersecurity), Senior Vice President at SAIC, and as Chief of Signals Intelligence Programs at the
National Security Agency, from which he received the Agency's highest award for civilian service in recognition of work done to transform the Agency's signals intelligence infrastructure following 9/11. Sam also served as a member of the Board of Directors, CVG/Avtec (2008-2010). Sam holds a bachelor's degree in International Politics from Georgetown University and a master's degree in Telecommunications from George Washington University. Sam served twice on the Intelligence, Surveillance, and Reconnaissance Task Force of the Defense Science Board, and has published articles on national and cybersecurity in World Politics Review, the Georgetown Journal of International Affairs, and the Defense Intelligence Journal. Sam is cleared TS/SCI.
Ways to Watch

Watch Now!
Over 500 videos of our weekly seminar and symposia keynotes are available on our
YouTube Channel
. Also check out
Spaf's YouTube Channel
. Subscribe today!