Doug Rapp - Delta Research & Cyber Leadership Alliance
"Security, Ethics and the End of the World as We Know It"
Feb 19, 2020
Download:

MP4 Video
Size:
420.1MB

Watch on YouTube
Abstract
Imagine a world where data is currency. A world where the majority of the data is owned and traded by 6 international data barons who are constantly at war with each other. In this world, rogue AI persecutes whole segments of the population while nations become Petri dishes for mind control. Most people move about daily life oblivious to the knowledge that someone is controlling them, telling them where to go, what to buy, and even how to vote. If you object, millions of cameras track you and pick you out of a crowd where you are intercepted by the authorities and taken off to be reprogrammed. Sound like the Minority Report? The Matrix? Black Mirror? Welcome to 2020.
The data revolution and convergence are making the industrial revolution look like a blip on the radar when it comes to change. Join me as we discuss complex issues surrounding ethics in a new world. Who gets to collect and control data? How is AI influenced by data reflecting undesirable human behavior? Should we influence that data to reflect the values we aspire to? If so, who gets to decide the value system? What is the line between advertising and social engineering and is it eroding the concepts of free will and democracy? Is anyone even thinking about this? These are the ethical questions that are being decided (or not decided) today that will shape your tomorrow.
About the Speaker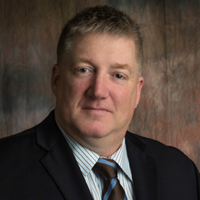 Douglas Rapp, CISM is a cybersecurity catalyst. Throughout his career, you will find him squarely at the center of countless firsts. These include writing the first State level cyber incident response plan, leading the Crit-Ex National Exercise, establishing the Region 5 Cyber Protection Team, and establishing Indiana's first Cyber Working Group which later evolved into both the Indiana Cybersecurity Executive Council and the Cyber Leadership Alliance. Doug has served as the Advisor to the State of Indiana for Cybersecurity and authored Indiana's Cybersecurity Economic Development Plan. He has started, scaled, and pivoted cybersecurity businesses and serves as a consultant and Entrepreneur in Residence for Purdue University. His most recent accomplishment was creating a statewide immersion cybersecurity workforce development program and raising $3M USD in commitments to student financial assistance. Doug is a published author, international speaker, and has testified before Congress on cybersecurity workforce development. A decorated combat Veteran, his greatest accomplishment is having raised two amazing children and having been trusted with America's sons and daughters.


Unless otherwise noted, the security Fall and Spring seminar series is held on Wednesdays at 4:30P.M. STEW G52 (Suite 050B), West Lafayette Campus.
More information...
Ways to Watch

Watch Now!
Over 500 videos of our weekly seminar and symposia keynotes are available on our
YouTube Channel
. Also check out
Spaf's YouTube Channel
. Subscribe today!