Alyssa Miller - S&P Global
Students: Spring 2023, unless noted otherwise, sessions will be virtual on Zoom.
Threat Modeling in the World of DevOps
Feb 02, 2022
Download:

MP4 Video
Size:
1.2GB

Watch on YouTube
Abstract
Threat modeling is an extremely valuable tool in the secure software development pipeline. Some studies suggest it has greater impact on security posture than other more widely practiced security activities. There are many different frameworks, models, and methodologies that have been developed in an attempt to make threat modeling easier. Yet, despite these efforts, popular approaches to threat modeling are often still considered too cumbersome, structured, or time consuming to fit with modern DevOps and CI/CD development.
In 2020, a group of 15 security professional released the Threat Modeling Manifesto to formalize decades of combined experience into a declared vision of what threat modeling truly is and what makes it important. Learn from one of these authors about how to break with the complex models and return to the values and principles of what threat modeling should be. Discover how this often-over-looked activity can be implemented in development pipelines and make them more efficient while improving overall security of software. See practical examples of how the manifesto serves as a guide to design a methodology that fits your needs and avoid common pitfalls that often derail this critical activity.
About the Speaker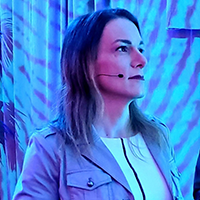 Alyssa Miller, Business Information Security Officer (BISO) for S&P Global, directs the security strategy for the Ratings division, connecting corporate security objectives to business initiatives. She blends a unique mix of technical expertise and executive presence to bridge the gap that can often form between security practitioners and business leaders. Her goal is to change how we look at the security of our interconnected way of life and focus attention on defending privacy and cultivating trust.
A life-long hacker, Alyssa has a passion for technology and security. She bought her first computer herself at age 12 and quickly learned techniques for hacking modem communications and software. Her serendipitous career journey began as a software developer which enabled her to pivot into security roles. Beginning as a penetration tester, her last 15 years have seen her grow as a security leader with experience across a variety of organizations. She regularly advocates for improved security practices and shares her research with business leaders and industry audiences through her international public speaking engagements, online content, and other media appearances.
Ways to Watch

Watch Now!
Over 500 videos of our weekly seminar and symposia keynotes are available on our
YouTube Channel
. Also check out
Spaf's YouTube Channel
. Subscribe today!