Abhilasha Bhargav-Spantzel &
Sonnie Ebikwo

- Microsoft
Students: Spring 2023, unless noted otherwise, sessions will be virtual on Zoom.
With great power comes great responsibility – Responsible Cybersecurity Innovations and Investments for Cloud Computing
Sep 21, 2022
Download:

MP4 Video
Size:
897.5MB

Watch on YouTube
Abstract
There is no one bigger game changer in the world than technology and its uptake in every aspect of our lives including our collective future. Cybersecurity has become the top priority across the board. There is need for informed cybersecurity investments that consider sustainability, responsible data usage, being prepared for any crisis and being resilient. We have to enable a culture of responsible innovation that takes holistic considerations for the people, process and technologies and drive a responsible mindset. We will talk about boundary considerations when it comes to data use, adversary threats, impact on environment, user behaviors and how we can help as cybersecurity professionals. The goal is to build the highways for the future with a holistic approach and principles that enables fearless harnessing of the global compute platform, enabling profound technological growth for the next generation.
About the Speaker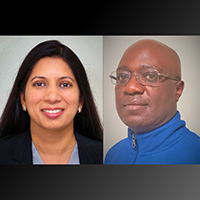 Abhilasha Bhargav-Spantzel is a Partner Security Architect at Microsoft. She is responsible for monitoring and coverage architecture for Microsoft Security Response Center (MSRC). MSRC is the front-line defense for millions of customers around the world who use Microsoft platforms and products. Previously she was at Intel for 14 years, focusing on hardware-based security product architecture. She completed her doctorate from Purdue University, which focused on identity and privacy protection using cryptography and biometrics. Abhilasha drives thought leadership and the future evolution of cybersecurity platforms through innovation, architecture, and education. She has given numerous talks at conferences and universities as part of distinguished lecture series and workshops. She has written 5 book chapters and 30+ ACM and IEEE articles and has 35+ patents. Abhilasha leads multiple D&I and actively drives the retention and development of women in technology. She is passionate about STEM K-12 cybersecurity education initiatives, as well as co-organizes regular camps and workshops for the same.
Sonnie Ebikwo is a Principal Program Manager at Microsoft where he works on strategies to deliver a high bar of security capabilities and productivity for Microsoft and Stakeholders. He is a highly knowledgeable professional, credited with over 27-years of progressive experiences in both the private and public sectors where he developed strong functional background in various industries ranging from Cybersecurity, Telecom, US Government, Real Estate, Transportation and the Service Industry. Prior to joining Microsoft, he served as a Senior Technical Program Manager and Availability Zone Owner of the largest cluster of Data Centers with the largest customer base within the AWS Data Center Supply Delivery Infrastructure. In this role, he led complex cross functional teams to deliver data center supply through shell, room and infill opportunities including direct responsibility for overall short- and longer-term health of the AZ. Sonnie holds a distinguished formal and extensive education with a master's in planning from the University of Texas at Arlington and completed the senior executive leadership development training at the UChicago Booth School of Business in 2013. He is a certified Project Management Professional (PMP-2003), Certified Scrum Master and a Certified Scrum Product Owner.
Ways to Watch

Watch Now!
Over 500 videos of our weekly seminar and symposia keynotes are available on our
YouTube Channel
. Also check out
Spaf's YouTube Channel
. Subscribe today!