Melissa Hathaway &
Francesca Spidalieri

- Hathaway Global Strategies
Students: Spring 2022, unless noted otherwise, sessions will be virtual on Zoom.
Integrating Cybersecurity into Digital Development
Dec 08, 2021
Download:

MP4 Video
Size:
1.3GB

Watch on YouTube
Abstract
In June 2021, the GFCE and the World Bank came together to identify pathways to bridge the development community to the cybersecurity capacity building community and create mechanisms by which digital development could see the benefits of incorporating cyber security into their projects and initiatives to achieve more resilient outcomes. This report, Integrating Cyber Security into the Digital Development Agenda, highlights some of the key challenges and benefits of incorporating cybersecurity, digital resilience, and cyber capacity building into the broader development agenda. The report also features several best practices and bridging venues and activities that could facilitate tighter alignment and collaboration between the digital development and cybersecurity capacity building communities and among initiative donors and implementors.
https://thegfce.org/wp-content/uploads/2021/11/Integrating-Cybersecurity-into-Digital-Development_compressed.pdf
About the Speaker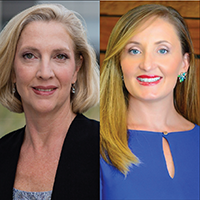 Melissa Hathaway is globally recognized as a thought leader in the fields of cybersecurity and digital risk management and has relationships with thehighest levels of governments and international institutions. She served in two U.S. presidential administrations, spearheading the Cyberspace Policy Review for President Barack Obama and leading the Comprehensive National Cybersecurity Initiative (CNCI) for President George W. Bush. As President of Hathaway Global Strategies, Melissa brings a unique combination of policy and technical expertise, as well as board room experience that allows her to help clients better understand the inter-section of government policy, developing technological and industry trends, and economic drivers that impact acquisition and business development strategies. Ms. Hathaway has a B.A. degree from The American University in Washington, D.C. She has completed graduate studies in international economics and technology transfer policy, and is a graduate of the US Armed Forces Staff College, with a special certificate in Information Operations. She publishes regularly on cybersecurity matters affecting companies and countries; these articles can be found here:
https://www.belfercenter.org/person/melissa-hathaway
Francesca Spidalieri
is a Cybersecurity Consultant for Hathaway Global Strategies and an Adjunct Professor for Cyber Policy at the University of Maryland's School of Public Policy and at Salve Regina University. She is also the co-principal investigator for the Cyber Readiness Index 2.0 project at the Potomac Institute for Policy Studies, and the Senior Fellow for Cyber Leadership at the Pell Center for International Relations and Public Policy. In addition, Francesca serves as a cybersecurity subject-matter expert for the World Bank, the UN International Telecommunications Union, the Global Forum on Cyber Expertise, the EU CyberNet, and other research institutes in Europe and the U.S. Her academic research and publications have focused on cyber leadership development, cyber risk management, digital transformation, and national cyber preparedness and resilience. Francesca
holds an M.A. in International Affairs and Security Studies from The Fletcher School at Tufts University, a B.A. in Political Science and International Relations from the University of Milan, and has completed additional cybersecurity coursework at the U.S. Naval War College's Center for Cyber Conflict Studies.
She lectures regularly at cyber-related events in the U.S. and Europe and contributes to journal articles and other publications on cyber policy matters affecting countries and organizations worldwide.
Ways to Watch

Watch Now!
Over 500 videos of our weekly seminar and symposia keynotes are available on our
YouTube Channel
. Also check out
Spaf's YouTube Channel
. Subscribe today!