Richard Clarke
Students: Fall 2022, unless noted otherwise, sessions will be virtual on Zoom.
Now That We're in a Hybrid War…
Mar 30, 2022
Download:

MP4 Video
Size:
432.5MB

Watch on YouTube
Abstract
The war Russia has waged on Ukraine has seemed largely kinetic, but the most effective weapons weilded thus far have been consumer technologies. Putin has pursued a hybrid warfare strategy, yet the Ukrainians have fought his mendacious claims with the realities of conflict captured by mobile devices and social media. Bogged down by guerilla fighting in Ukrainian cities, Putin will view offensive cyber action and aggressive information warfare as increasingly appealing options. Richard Clarke, former U.S. National Coordinator for Security, Infrastructure Protection and Counterterrorism, and the nation's first "Cyber Czar," will give us an inside look at what the world has learned about the spillover of warfare in an era of advanced cyber threats.
In his latest book, The Fifth Domain: Defending Our Country, Our Companies, and Ourselves in the Age of Cyber Threats, Clarke delves deep into the political and economic calculations of cyber conflict. He also provides concrete steps that can be taken to achieve cyber resilience, during peacetime and amidst international conflict, including building more resistant systems and raising the costs for escalations in cyberspace.
About the Speaker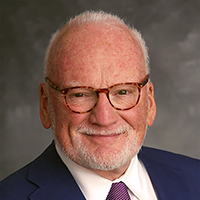 Richard A. Clarke served for thirty years in national security policy roles in the US Government, first in the Pentagon, then the State Department, and finally for an unprecedented decade of continuous service for three Presidents in the White House.
In the White House National Security Council for President Bush (41), Clinton, and Bush (43) he served as Special Assistant to the President for Global Affairs, National Coordinator for Security and Counter-terrorism ("Terrorism Czar'), and Special Advisor for Cyberspace (the first "Cyber Czar").
Earlier, in the State Department he had been appointed as Deputy Assistant Secretary for Intelligence in the Reagan Administration and was confirmed by the Senate as Assistant Secretary of State for Politico-Military Affairs in the Bush (41) Administration. In the latter capacity, he coordinated elements in support of the First Gulf War. In the Pentagon and the State Department, he participated in a series of multilateral and bilateral nuclear arms control negotiations.
Following his government career, Dick Clarke was an on-air analyst for ABC News for fifteen years, taught at the Harvard Kennedy School for five years, lead a security risk management consulting firm (Good Harbor), and served on corporate advisory boards and Boards of Directors, as well as chairing or serving on state and federal advisory boards on cybersecurity (including President Obama's Advisory Group on Technology and Intelligence, the "NSA Review Group"). He is the Chair of the Board of Governors of the Middle East Institute, an eight decade old educational institution based in Washington. He was a member of President Obama's 2008 Transition team.
Clarke's books include both non-fiction (5) and fiction (4). His seminal work on terrorism and al qaeda, Against All Enemies, was a number one NY Times best seller. His 2010 volume Cyber War, co-authored with Rob Knake, was a Washington Post bestseller and acknowledged as an early and foundational book in the field. Its sequel, the Fifth Domain; Defending our Country, our Corporations and Ourselves in the Age of Cyber Threats, also written with Knake, was published in 2019.
Clarke is the host of the FUTURE STATE podcast. He is the recipient of membership in the Cybersecurity Hall of Fame, the RSA Lifetime Achievement Award, and the Champion of Freedom Award from the Electronic Privacy Information Center. A graduate of Boston Latin School, the University of Pennsylvania, and MIT, Dick Clarke is a resident of Virginia.


Ways to Watch

Watch Now!
Over 500 videos of our weekly seminar and symposia keynotes are available on our
YouTube Channel
. Also check out
Spaf's YouTube Channel
. Subscribe today!