John Steven Reel - Veridian
Students: Spring 2023, unless noted otherwise, sessions will be virtual on Zoom.
The Future of Information Security Technologies
Aug 23, 2000

PDF
Download:

MP4 Video
Size:
161.6MB

Watch on YouTube
Abstract
Information security, and the technologies that provide such security, are a very hot topic throughout the information technology and business communities today. This presentation opens with a consideration of the current network environment. It answers the questions "where are these technologies?" and "where are the gaps in the technologies that are being addressed?" especially as they impact security. Next, the presentation considers the field of network security technologies. It addresses the good, the bad and the undecided aspects of the field today. After setting the stage with this background information, the presentation identifies the most important trends that will impact the network security industry in the coming few years: the federal government finally cares, the vanishing network perimeter, and the opportunity to achieve ubiquitous encryption. Toward the end of the presentation, Dr. Reel presents two "killer" security-related applications. Finally, the presentation closes with a discussion of the major needs in the information security field.
About the Speaker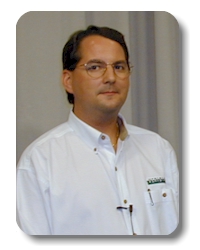 Dr. Reel has BS and Ph.D. degrees in Computer Science. He spent over 9 years with the National Security Agency developing network-based software for deployment around the world. In 1995, he joined Trident Data Systems (now Veridian Corporation) in their San Antonio operation. For 3.5 years, he worked in an advanced research and development facility dedicated to information security technology development and assessment. Since September 1998, he has been the Chief Technology Officer of Veridian\'s Information Security business unit. In 1998 he and five teammates were awarded a patent on a new technology to protect communications circuits from malicious use. In addition to his dissertation, \"Radiant Object-Oriented Analysis and Design\", he has had one article published by IEEE Software Magazine (Critical Success Factors in Software Projects, May/June 1999). Further, he has given numerous talks and authored many white papers on IA/IO/IW/IP/IS concepts and technologies.
Dr. Reel represents Veridian on the External Advisory Board for the Center for Education and Research in Information Assurance and Security (CERIAS) at Purdue University. In addition, he serves as an advisor to the Security Panel of the President\'s Committee of Advisors on Science and Technology (PCAST) as well as the Emerging Technology Panel for the San Antonio Chamber of Commerce.
Ways to Watch

Watch Now!
Over 500 videos of our weekly seminar and symposia keynotes are available on our
YouTube Channel
. Also check out
Spaf's YouTube Channel
. Subscribe today!