Naomaru Itoi and James Rees - CITIUniversity of Michigan
Students: Fall 2021, unless noted otherwise, sessions will be virtual on Zoom.
Practical Security Solutions Using Smartcards
Feb 05, 1999
Abstract
The University of Michigan's Center for Information technology Integration is taking a pragmatic and experimental approach to integrating smartcards with conventional distributed computing technologies. The focus is on melding the inherent security of smartcard storage and cryptography with the security middleware prevalent in many higher education institutions.
In this talk I will describe some of the exciting smartcard solutions being investigated and deployed at CITI, including integration with Kerberos and other symmetric key systems, PalmPilot and JavaCard applications, Internet access to smartcards, and extending conventional file systems to work transparently with ISO7816 files. The last of these allows, e.g., secure, portable, and transparent storage of web cookies on smartcards, emblematic of the kinds of security solutions smartcards enabled when fully integrated with enterprise middleware.

About the Speaker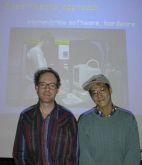 Naomaru Itoi is a doctoral candidate in the Department of Electrical Engineering and Computer Science and a research assistant at the Center for Information Technology Integration. He holds a BS from Nagoya University (Japan) and the ME degree from the University of Michigan. His research interests include smartcards, operating systems, and computer security. He is the author of several papers published in USENIX and IEEE research workshops.
Ways to Watch

Watch Now!
Over 500 videos of our weekly seminar and symposia keynotes are available on our
YouTube Channel
. Also check out
Spaf's YouTube Channel
. Subscribe today!