Kelly FitzGerald - Raytheon Technologies
Students: Spring 2023, unless noted otherwise, sessions will be virtual on Zoom.
Don't Copy That Floppy!: A History of Anti-cracking Controls in Early Video Games and Its Economic Impact
Apr 12, 2023
Download:

MP4 Video
Size:
195.6MB

Watch on YouTube
Abstract
The roots of software piracy were propelled by the fledgling game market of the 1980's where the PC game supply chains were brittle and copying floppy disks was really easy.  This talk will walk through the history and evolution anti-cracking controls as video games moved from bedroom game development to a 220 billion dollar industry.
About the Speaker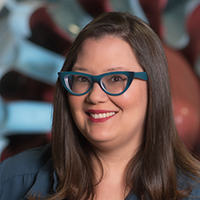 Kelly FitzGerald is an Product Security Architect at the RTX CODE Center where she focuses on factory and supply chain cybersecurity and threat intelligence.  Kelly comes to RTX after 15 years at Symantec/Veritas where she worked in Product Security Vulnerability Management while doing research in medical device vulnerabilities.  Kelly lives with her husband, kind golden retriever and sassy black cat in San Diego, CA.  In her spare time she creates bad art, manipulates the memory of single player games and watches way too much educational YouTube.


Ways to Watch

Watch Now!
Over 500 videos of our weekly seminar and symposia keynotes are available on our
YouTube Channel
. Also check out
Spaf's YouTube Channel
. Subscribe today!