Spafford Receives Lifetime Achievement Award
Professor Spafford (left) receives the SANS Lifetime Achievement Award from Lance Spitzner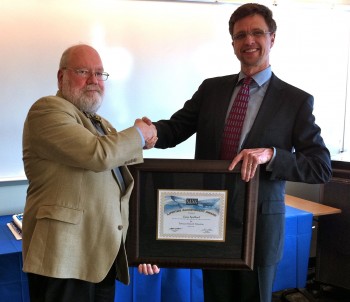 Lance Spitzner, a representative of the SANS Institute, presented Professor Eugene H. Spafford of Purdue University with their Lifetime Achievement Award at a CERIAS faculty reception at Purdue University. The faculty and staff of SANS voted overwhelmingly to award Spaf (as he is commonly known) only the second such award SANS has ever given. Mr. Spitzner, himself a respected security researcher well-known for his work in honeynets and intrusion detection, noted in his remarks that Dr. Spafford's work in research and education over his career to date has profoundly shaped the field of information security. He went on to say that some of Spaf's earliest work at Purdue provided the only public information on information security for many years, and was a guide and inspiration to many newcomers to the field — including himself. He further noted that Spafford's many former students, and the graduates of the program he has led at Purdue, have gone on to become a veritable "who's who" of the field.
Professor Spafford thanked the SANS Institute, and all those gathered for their continued support. He also noted wryly that although this was a "lifetime" achievement award, he hoped it didn't imply that his career was coming to a conclusion any time soon!
Professor Spafford has been a member of the computer science faculty at Purdue University for 24 years. During that time he has been repeatedly recognized by external organizations for his research achievements, professional and public service, and teaching; he has also received the three most significant recognitions for educational excellence offered by Purdue. He has been named as a Fellow of the AAAS, ACM, IEEE, (ICS)2, and as a Distinguished Fellow of the ISSA. In 1998, Professor Spafford was the founding director of CERIAS, and continues as its Executive Director.
About the SANS Institute: SANS is the world's largest professional training and certification organization for information security.
See http://www.sans.org
About CERIAS: The Center for Education and Research in Information Assurance and Security at Purdue University is the leading academic center in issues of information security, privacy, and cybercrime.