Robert W. Proctor named the Distinguished Professor of Psychological Sciences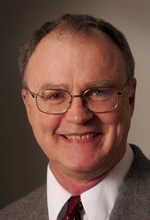 Proctor is the latest CERIAS-affiliated faculty member to be named as a Distinguished Professor at Purdue
Robert W. Proctor has been named the Distinguished Professor of Psychological Sciences.
A distinguished professorship is the highest academic distinction at the university bestowed on professors of outstanding accomplishment. The two newest appointments bring the university's total of named and distinguished professors to 149.
"This special recognition is for a select group of professors who have achieved national and international prominence in the academic world, said interim Provost Victor L. Lechtenberg. "Purdue and its students are fortunate to have educators of this caliber."
Proctor, a professor of psychology, has been at Purdue since 1988. His research focuses on the areas of basic and applied aspects of human performance and examines the relationship between perception and action. This includes how to map display components to controls so that response selection is fast and accurate, structure tasks so that more than one can be performed together efficiently, and characterize changes in response-selection efficiency with practice and age. He also conducts research dealing with how to design systems and interfaces so that people can easily use them. Proctor has recently been conducting research relating to human factors in Web security and privacy practices of Web users. His research has been funded by the Army Research Office, National Institute on Aging, and National Science Foundation, as well as by private companies.
Proctor is a member of several journal editorial boards, has co-authored six books and co-edited two. He also has published numerous book chapters and journal articles and spoken at several conferences.
He is a fellow of the American Psychological Association and the Association for Psychological Science. He also is an honorary fellow of the Human Factors and Ergonomics Society.
Proctor earned a bachelor's degree from the University of Texas, Austin, in 1970 and his master's and doctoral degrees in psychology from the University of Texas, Arlington, in 1972 and 1975.
Before arriving at Purdue, he was a professor at Auburn University and Michigan State University.
Author: Jim Bush, (765) 494-2077, jsbush@purdue.edu