Princeton researchers release paper on security vulnerabilities in Diebold voting machines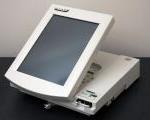 Researchers at Princeton University's Center for Information Technology Policy have released a paper that finds the Diebold AccuVote-TS voting machine to be vulnerable to numerous attacks
Ariel J. Feldman and Edward Felten of Princeton's Center for Information Technology Policy and Dept. of Computer Science , along with J. Alex Halderman of the university's Woodrow Wilson School of Public and International Affairs , have released a disturbing report on security vulnerabilities in the Diebold AccuVote-TS .
From the report:
"Analysis of the machine, in light of real election procedures, shows that it is vulnerable to extremely serious attacks. For example, an attacker who gets physical access to a machine or its removable memory card for as little as one minute could install malicious code; malicious code on a machine could steal votes undetectably, modifying all records, logs, and counters to be consistent with the fraudulent vote count it creates. An attacker could also create malicious code that spreads automatically and silently from machine to machine during normal election activities—a voting-machine virus."
The full report, as well as a demonstration video, are available at http://itpolicy.princeton.edu/voting. The PDF report is also available from the CERIAS website in the Reports and Papers archive .

The AccuVote-TS and TSx are the most widely deployed electronic voting platform in the US, with 33,000 machines nationwide. In the November 2006 election, the systems are scheduled to be used by nearly 10% of registered voters, including all of Maryland and Georgia.